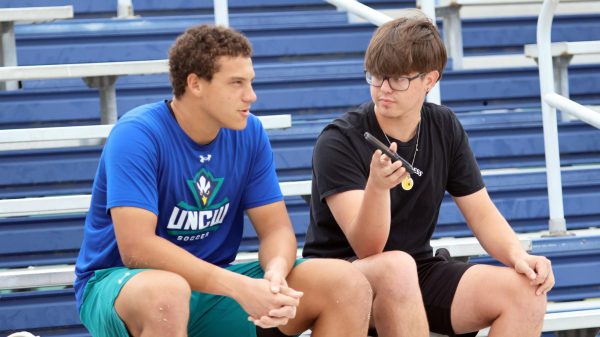 A one-on-one interview was conducted with fifth year goalkeeper, Jacob Randolph. Randolph has started every game this year for the University of North Carolina Wilmington (UNCW) and is a key part of his team.
You are from New Orleans, La. You played at Jesuit High School. Can you tell me about your experience there?
It was good. I spent three years on the varsity team under head coach, Hubie Collins. I played with some great players in my sophomore, junior and senior year. I was fortunate to win a state championship my junior year. [I] made memories that will last a lifetime. Jesuit's soccer program is one which is highly respected in the area.
Then you played three years at Barton College, competing at the National Collegiate Athletic Association (NCAA) division two (DII) level. How was your experience at Barton College?
It was good. It was a good challenge coming out of Louisiana. I did not really know what to expect out of college soccer, DII soccer specifically. Playing in the Conference Carolinas as a freshman, I got to appear in about half our teams' games.  [I] played a decent role in our team's success. Then, [in] my sophomore and junior year I was the starter. I had great memories under head coach Ian McMichael and Steve Barry, as well as Rafa Ribiero. Barton, I am forever thankful and grateful to them for seeing something in me and giving me my opportunity to play college soccer.
Tell me about the changes you had to deal with between your hometown and Wilson, N.C., where Barton was located.
It was a difference, coming from New Orleans with the city life, having a lot of things to do in town. Then, going to Wilson, N.C., which is a small town. It was a wakeup call. It helped me get closer to my teammates and other people on campus though. Barton has a pretty large international population, as well as a fair number of international players on our team. I was able to become good friends and have good experiences with people from all over, so it was not what I initially expected but it was one of the greatest experiences of my college career I can say.
This year being your second year with the team, how was your time was last year sitting behind Gabriel Perrotta?
Honestly, it was tough. Everybody wants to play but there is only one goalkeeper out there. I took it in stride as a great learning opportunity. Gabriel [is] a very experienced player, plenty of maturity and experience behind him after playing at a high level in Paraguay and then coming over here to the states and being UNCW's all time shut out leader among many other honors and accolades throughout the Coastal Athletic Association [CAA]. It was very honoring and was a great privilege to work behind [Perrotta] and to work with him so closely in my first year transitioning here. I am very thankful I had Gabriel on my side and I'm glad to say we are still friends.
You mentioned how there is only one goalkeeper out there… Can you talk to me about the unique responsibilities which goalkeepers possess? And why did you start playing goalkeeper?
Funny you mention that, I started out as a field player, up until I was 15 or 16 or so. Our goalkeeper for our club team broke his foot and we didn't have anybody to play in goal. At the time, I was not getting too much time in the field, so I figured I would try something new. I strapped on the gloves and hopped between the posts, and never looked back from there. I really enjoyed the sensation of denying people's goals, and I got the feeling of scoring a goal from taking away a goal when I would make saves. Once I got that fire in me and the desire to do what I am doing, I never looked back from there. After that, I continued playing goalkeeper in high school and it has taken me all the way here, to Wilmington.
The numbers say we are 6-4-3, you have appeared in all 13 games. How would you describe this season in your words?
I would say it has been a unique one, starting off the year with a COVID scare early on in the season, guys were sick and what not. It [has] definitely been a unique season to say the least, having to deal with ups and downs and challenges on the way. I think we have shown good resiliency and have had some positive performances. I think overall, though, this season has been a unique one for us.
What are the team's goals for the rest of the season?
Our goal is to play in the conference tournament and as we edge towards the end soon, we have two more conference games to play. They are paramount here in setting us up to try to get into the tournament. We know the mission ahead is not going to be easy, I think in these last three games, last two conference games one thing we are looking for is consistency and resilience and having a sense of toughness about us. We know it will be an uphill battle to get these last two results in conference, but also knowing we are more than capable of doing so and we have plenty of quality players to get it done.
This is your fifth year, and your last year of eligibility. How does that feel going into the end of the season?
I have tried to not think about it too much as we approach the end of the college season, but yes this is my fifth year, this is the last ride. Just trying to take each day one day at a time, moment by moment. Really savor my moments in the locker room, on the field, with the guys off the field. Recognizing how fortunate and blessed I am to have had this opportunity, and just trying to embrace every moment with my teammates and savor it like it is my last.
How has it been to play under head coach Aidan Heaney?
It is an honor and privilege. UNCW men's soccer program is a pretty selective program. They get guys in from a certain cloth that they want, and they have a profile of people that they want here. As men and as players there is a certain standard. To see myself as fit to check those boxes for Coach Heaney, it's an honor and privilege to be here at UNCW.
What is your favorite soccer club and your favorite player?
My favorite club is Tottenham Hotspur F.C., and the goalkeeper I like to watch is France's number one keeper, Mike Maignan.