The UNCW Women's Soccer team took on Queens University in a Senior Day matchup. The matchup occurred on Sunday, Sept. 3. Queens University is a private university in Charlotte, North Carolina. The last time the Seahawk's played Queens was on Aug. 18, 2022. The Seahawks were able to secure a 2-0 victory in the last matchup between the two opponents.
The Seahawks came into this home match looking for a win, after a disappointing start to the season. The team would begin the game well, with senior defenseman Makaya Parham putting in a crucial goal in the 7th minute. She was assisted by sophomore forward and midfielder Ayla Vaneus and junior forward Kayla Burroughs.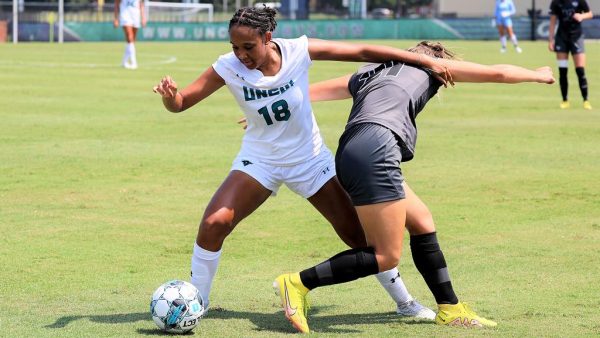 After the early goal, the Seahawks stayed consistent, with the score remaining the same until the 59th minute, where freshman midfielder, Viktoria Hankova scored her first career regular season goal. The goal was assisted by junior forward McKenna Gardner. In the 73rd minute, sophomore defender Taylor O'Brien scored a goal, assisted by freshmen defender Rachel Fry. This made the score 3-0, with the Seahawks having the advantage. This was also the final score of the game.
Although it was Senior Day, there were a number of freshmen who got playing time. To begin, defenseman Rachel Fry played a big role in the match yesterday. She turned in a great performance, earning the start and logging 78 minutes of play. She recorded an assist, as well as a shot on goal. Viktoria Hankova was also an impactful freshmen contributor in this one. Hankova started and logged 48 minutes in the match, scoring the second goal of the day. Kate Cox was another freshman to get significant playing time as well, subbing in and playing 21 minutes.