Win or go home: UNCW men's soccer prepares for semi-finals
WILMINGTON, North Carolina – The UNCW men's soccer team earned a total of nine clean sheets throughout regular season play this year. This achievement assisted them in receiving the no. 2 seed, as well as a bye straight into the CAA tournament semi-final game, where they will have home-field advantage.
A major contribution that played a role in the execution of shutting out nine different opponents came from the connection between the two new additions the Seahawks acquired this year. 
Center-backs Josef Hefele and Jake Shannon have never played together before. The two were practically strangers before they met earlier this year for preseason. However, if you were to sit down and watch them play, you would think that they have been teammates for years. 
Hefele, a sophomore transfer from Saint Leo University, and Shannon, a freshman out of Apex, North Carolina, were both introduced to the Seahawks earlier this year. 
The two came together to provide a center-back pairing that contributed to the Seahawks' nine clean sheets and only allowed 11 goals against in 16 total matches. Now, what's the key to this connection they have strengthened throughout the season?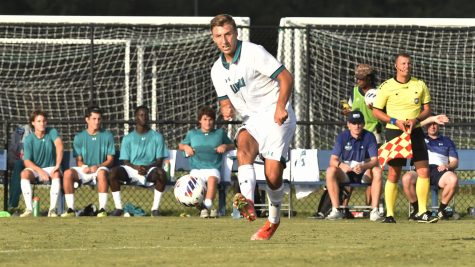 Well, according to Hefele, it's trust. "I know that if I played a ball over to Jake, he's got the qualities and attributes that we need, so I know that he's going to do good things with it," Hefele explains. 
Trust plays a major role in the relationship between the center backs. Working in tandem with another person is never an easy task, but their confidence in each other as players allows for quality performances. 
"I know that if I go into a battle or a tackle, he's got my back if I miss it, or miss clear it. It's like a brotherhood, I know I can count on him," Hefele states when speaking about Shannon. 
In addition to the trust shared between the two, communication is equally important in their partnership on and off the field. 
"I would say communication is a big part of it too. We talk on and off the field, but for on the field, there may be a time when one of us messes up, but we know that the other one is going to cover us," Shannon adds.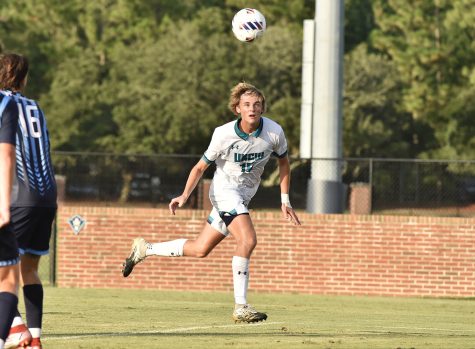 Hefele and Shannon are proud of their accomplishments during the regular season, including all-conference acknowledgements, but understand that there is a whole new season ahead of them. 
"It is a win or go home stage now, so every one of us will give a 120% to win the game. If we perform how we played the last few games then I would hate to play against us," Hefele notes on the approaching postseason match. 
The Seahawks have all eyes ahead on Sunday's matchup. One word the duo used to describe the team right now: energetic. 
"The energy in the locker room is really high," Shannon comments on the team's mentality. "We played really well against Campbell and Elon and we're really hyped up for the game on Sunday."
Hefele, Shannon and the rest of the no. 2 seed Seahawks team will face no. 3 seed Hofstra in a semi-final matchup at 2 p.m. on Sunday at UNCW Soccer Stadium. 
For more on the Seahawks, you can follow them on social media platforms @UNCWMenssoccer or visit the men's soccer page at uncwsports.com.