Seahawks fall in men's soccer semi-final
WILMINGTON, North Carolina – Despite an 84-degree day in November, an unsettled UNCW crowd had boos raining from the stands early Sunday afternoon. The Seahawks took a heartbreaking loss to the Hofstra Pride 2-1 that will send Hofstra to face Elon for the CAA title on Saturday, but the boos were not because the Seahawks were losing.
The boos started at just under 18 minutes left in the game, when UNCW's Adam Hillis entered the box in a potential scoring opportunity and was shoved to the ground from the back by a Hofstra defender. In tournament play, referees rarely make a game-changing call to give one team a penalty kick and a potential lead. However, if you ask anyone neutral on the game, they would say there was a clear and obvious extension of the arms resulting in a foul in the box. The UNCW players, coaches and fans wanted the call, but could not get it.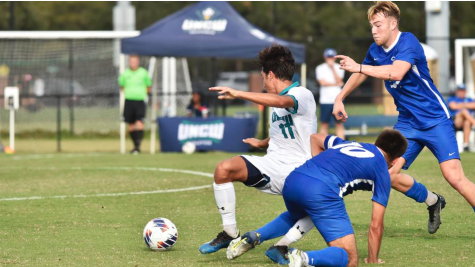 Less than two minutes later, Angelo Madrid for UNCW is shown a red card after going cleats-up into an attacking Hofstra player. Another controversial call goes against the Seahawks, leaving them with only ten men the rest of the way, resulting in a Hofstra goal just a minute later to take the lead. "On another day, that's a yellow card," says UNCW Head Coach Aidan Heaney. 
The loss finishes off UNCW's season with a 6-4-7 record. The UNCW men's soccer team finished 2nd place in the CAA regular season standings and exited the tournament as CAA semi-finalists.
For more on the team, follow @UNCWMenssoccer or visit UNCWsports.com.