Perrotta and the Seahawks eye the conference crown
The UNCW men's soccer team will compete for the CAA conference tournament over the next two weeks, and with their second place finish in the league, the Seahawks have the pleasantries of home field advantage through the semifinals.
If you ask any coach or player in the CAA what makes this Seahawk team so dangerous, be sure to expect "defense" as the answer. 
"Defensively we've been very solid, we haven't given too many goals away, and that always gives us a chance," says UNCW head coach Aidan Heaney.
Whenever there is a strong defense, it typically starts with the goalkeeper, which couldn't be more true for the Seahawks.
Gabriel Perrotta was not only a part of nine shutouts this season, but just weeks ago he set the UNCW record for most career shutouts when he got his 26th at William & Mary on Oct. 15.
"When I came to UNCW I never thought I'd be a record setter at this amazing program," said Perrotta. "It is definitely an honor but it never would've been done without the support of my teammates and coaches throughout the last 4 years."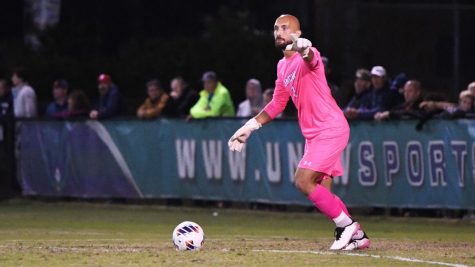 "He's a high level guy, he's continued to develop since he got here…He's talented but he works extremely hard, he's improved," Coach Heaney adds.
The records and regular season success is surely to be enjoyed by the players and coaches, but both Heaney and Perrotta have much bigger goals in mind.
"I'd say our main goal as a team is winning the regular season and conference tournament. We are in a good spot and have a great team to do something special and make some great memories at this school," says Perrotta.
While the regular season goal did not come to fruition, do not think for one second that the Seahawks are hanging their heads and not fully focused on the tournament that lies ahead.
Coach Heaney says, "The goal is not to try to make the playoffs, the goal is to win the playoffs."
UNCW plays in the CAA semifinals at home at 2 p.m. on Sunday Nov. 6, against the winner of Thursday's battle between Hofstra and William & Mary.
Follow @UNCWMenssoccer for more on the team or visit UNCWsports.com.