Henry's hat trick secures Seahawk's win against Spartans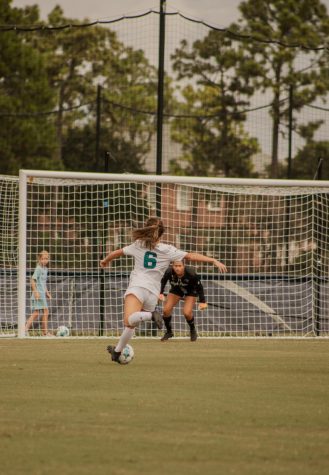 GREENSBORO, North Carolina – On Sunday, the Seahawk women's soccer team routed the UNC Greensboro Spartans 5-1. 
The offensive explosion came in the second half, fueled by three Madison Henry goals, marking only the 8th hat trick in UNCW women's soccer history. The junior from China Grove, NC also had an assist, which led to the first UNCW seven-point game in seven seasons.
The other two goals for the Seahawks were scored by Hannah Heaton and Issy Bryant. Heaton and Henry have now both scored in the last two games, as they were the two goal scorers to lift the Seahawks over the High Point Panthers a week prior.
Issy Bryant, on the other hand, got to celebrate her first career goal in a UNCW uniform. Issy, the freshman from England, could be a vital part of the team's success in years to come, having already represented England in international play.
UNCW improved to 4-2-1 on the season and will go on the road to play Campbell on Thursday. The Seahawks and the Camels have had a couple of common opponents. Both teams defeated Coastal Carolina, the Seahawks 3-1 and the Camels 2-1. The Camels also lost to Clemson 5-1, who the Seahawks lost to 1-0 in a preseason exhibition game.
To watch Madison Henry and the rest of the Seahawks take on the Camels, tune in to ESPN+ on Thursday at 7 p.m., and to keep up with scores and other team updates, follow @UNCWSoccer on twitter.