Women's Soccer sets sights forward after regular season championship
WILMINGTON – Cheers erupted from the UNCW Soccer Stadium on Sunday as sophomore Kara Mills delivered the overtime game winner, giving Coach Neal and the women's soccer program their first regular season CAA Championship ever.
The 1-0 win against Towson capped off an 11-3-1 regular season for the Seahawks that included a 7-2 conference record. The Seahawks are undoubtedly ecstatic with the regular season trophy, but they still have unfinished business. 
The CAA tournament begins Nov. 4 when the top-seeded Seahawks take on Northeastern in the semi-finals. A tournament win would be vital for the Seahawks, as it would secure an automatic bid in the NCAA Tournament.
 While it is possible that the Seahawks could leave the tournament at Elon this weekend empty-handed, they could still be given an at-large bid to the NCAA Tournament.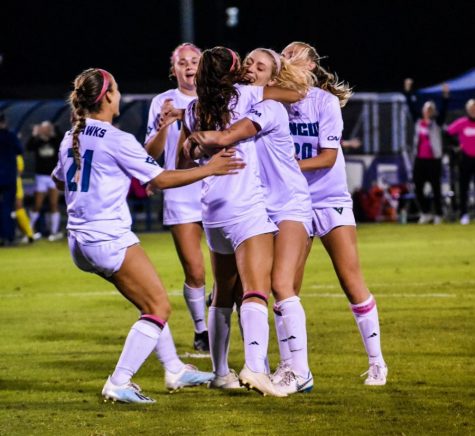 Odds are not with them however, as most at-large bids typically go to power-5 conference schools. Furthermore, no CAA team has been given an at-large bid since 2015 when UNCW took advantage of its appearance and stole a game from South Carolina in the first round, before getting bounced by #1 seeded Virginia.
Obviously, Northeastern is no team to look past, even after the Seahawks went into Boston in early October and came away with a 2-0 win.
What everyone has their eyes on though, is a potential UNCW vs Hofstra rematch. As long as the Seahawks get past Northeastern, and Hofstra beats James Madison, the Seahawks will have a shot at redemption, as Hofstra bested UNCW in two overtimes less than a month ago.
In order to get two wins this weekend and erase any doubt of a NCAA Tournament spot, UNCW will need to continue fantastic defensive play. Goalies Blaire Barefoot and Kaylie Bierman, as well as the whole back line, have only allowed more than one goal in two games dating back to the start of September.
If the Seahawks do indeed get another chance at Hofstra, senior Audrey Harding and freshman Kayla Burroughs will need to work some of their offensive magic against a team that has shut out 12 of its 18 opponents this season.