In the heat of the moment, UNCW men's soccer kicks off season strong
WILMINGTON, North Carolina–UNCW men's soccer began the 2021-22 campaign with a 1-0 win over Lafayette.
However, the victory did not come easy for Head Coach Aidan Heaney and the Seahawks.
After losing its final three games in 2020 and going winless in exhibition play to start 2021, Heaney and UNCW certainly felt the heat, figuratively and literally, in the Seahawks' season -opener on Thursday.
"It was a very hot day," Heaney said postgame. "The conditions were not easy. I thought the performance was an improvement from the first two games…we're improving and getting better."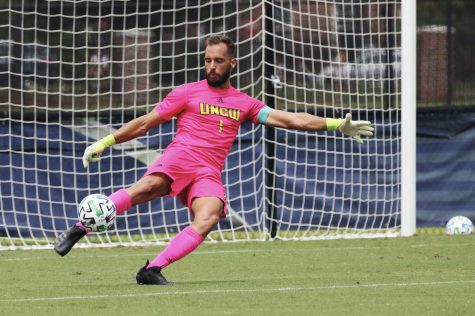 With temperatures reaching as high as 94 degrees, embracing the heat will have to be something UNCW men's soccer is comfortable doing as the Hawks will head to The Sunshine State to take on South Florida and Jacksonville in the team's first two road games of the season.
"We're adapting to the temperatures and humidity which were the main factors tonight," Heaney mentioned. "I think that's definitely acclimatization of how it's going to be in the next two games."
Junior goalkeeper Gabriel Perrotta helped limit Lafayette to just five shots and secured two saves in Thursday's shutout victory.
"We are still certainly a work in progress," Heaney said. "But you've got to find ways to get a little confidence going to start the season and we did that today by getting the result and getting the shutout."