Lady Hawks fall to Kennesaw State despite 14-point comeback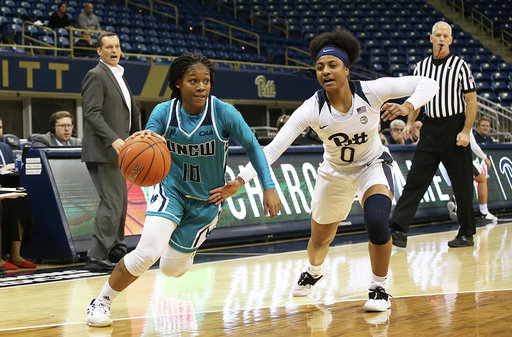 KENNESAW, Georgia – UNCW (3-2) fell to the Kennesaw State Owls (2-0) 69-59 Friday afternoon in the KSU Convocation Center in Kennesaw, Georgia.
Although the Lady Hawks struggled in the first half, trailing by as many as 14, they showed up big in the third quarter for the third straight game, scoring 28 points, the most in a single quarter since Coach Karen Barefoot took over the team four years ago.
Freshman guard Taylor Webster led the Seahawks with 17 points and seven rebounds, while freshman guard Mary McMillan and redshirt junior guard Dazia Powell, each scored 12. Junior guard Za'Nautica Downs added 11 to the Seahawk total.
Despite the explosive third quarter, UNCW was unable to close out the game with a victory, as Kennesaw State ended the game with a 12-0 run in the last three minutes. The Owls also shot 48.3% from the field, compared to the Seahawks' 32.3%, and outrebounded the Lady Hawks, an unusual statistic for UNCW.
The Owls were led by redshirt junior guard Jah'Che Whitfield with 20 points and 13 rebounds. Other major contributors included freshman guard Julia Rodriguez, with 13 points and junior guard Amani Johnson with 10. Johnson also added eight assists and three steals.
Due to the postponement of the Duke game, scheduled for Dec. 22, the Lady Hawks will have 11 days off before hosting Mercer on Dec. 29, at 2 p.m. in Trask Coliseum.