Men's soccer preview: UNCW @ no. 20 North Carolina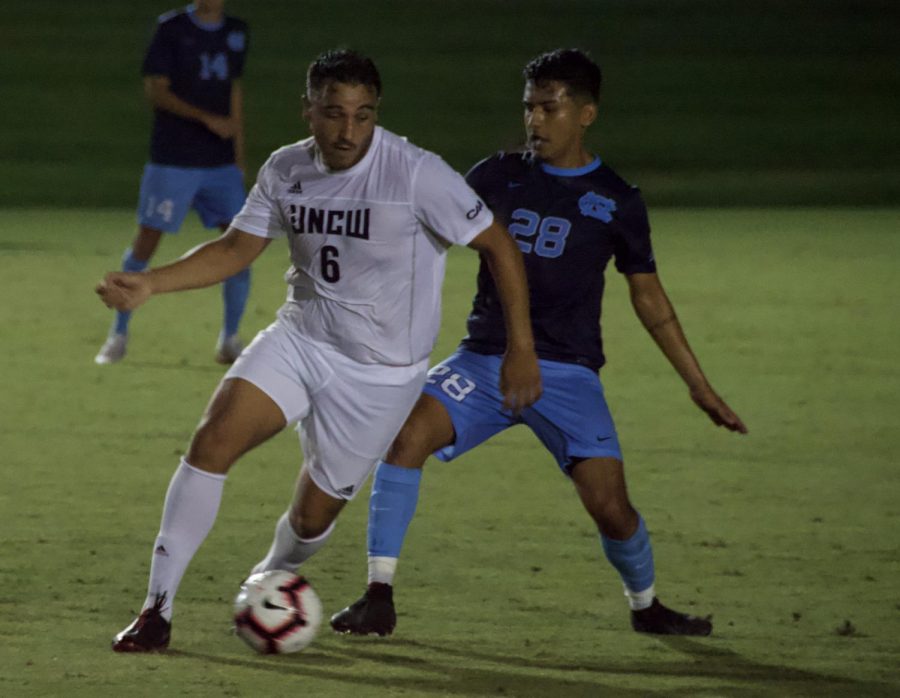 Yv Scarlett Maciel, Contributing Writer
October 1, 2019
There is nothing like soccer on a Tuesday night. Tonight UNC Wilmington (4-3-2) will face off against no. 20 North Carolina (4-2-2). The match is set for 7 p.m. at Chapel Hill's Dorrance Soccer Field and will air on the ACC Network.  
This matchup with the Tar Heels will mark the first and only time this season that the Seahawks will square off with a nationally-ranked team. Since 2003, when playing against ranked teams, the Seahawks have a 17-25-5 record.   
UNC v.s. UNCW: The History 
Since the 1970s, UNCW has accumulated a 2-5-12 record when facing off against the Tar Heels. UNC has not lost to UNCW at home since 2013 with that game ending 1-0. Historically, when playing off against one another, scores have ended in just one-goal differences.  
Previous Games 
Momentum follows the Seahawks as they move forward from a 3-1 win against Northeastern Sunday night. On the other side of the ball, the Tar Heels are taking the field after a 3-2 loss against Duke. This was the first time since 1999 that Carolina lost at home against the Blue Devils. With its winning streak busted, this could make for a shaken up North Carolina squad.  
 Star Players 
The Seahawk to look out for in this game is Charlotte native Phillip Goodrum with 25 goals and 63 points accumulated from his four years at UNCW. Goodrum is ranked eighth in career goals in UNCW Men's Soccer history. The senior picked up two points last game with one goal and one assist to continue on his points.  
For the Tar Heels, junior Alex Rose with 10 points and two goals early in the season, is the player to watch. Rose scored one goal in UNC's last game. 
With both players scoring previously, they must be itching for a goal tonight. With that said, these two are the ones to keep an eye on.  
Upsets are Upsetting 
In the last eight games, UNCW has outshot its opponents 112 – 67, showing that the Seahawks will not let the other team leave without making them sweat. In addition, the Seahawks have won 23 consecutive games when scoring three or more goals. If the Seahawks can land three shots in the net tonight, this could be an upset in the making.