Cacok, Toews receive All-CAA honors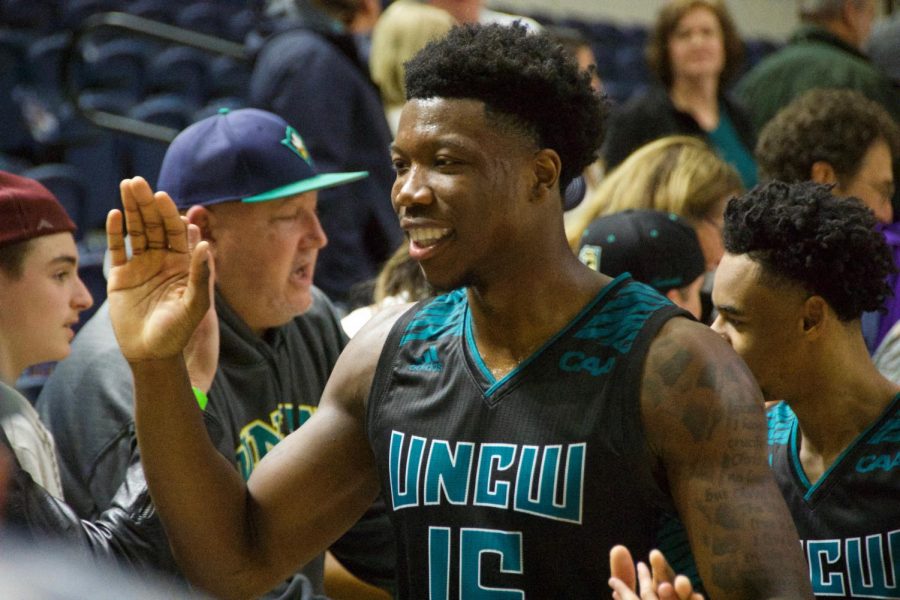 Brandon Sans, Sports Editor
March 8, 2019
There's a reason to smile around Trask Coliseum — that's all UNC Wilmington fans should do with the news that two Seahawks received Colonial Athletic Association honors on Friday.
Senior forward Devontae Cacok (14.9 points, 12.3 rebounds per game) was named to the CAA All-First team for the second straight year after leading the nation with 22 double-doubles.
Cacok also made his third straight CAA All-Defensive team. He was named the conference's Defensive Player of the Year after his sophomore year.
In a minor upset, freshman point guard Kai Toews (8.8 points, 7.8 assists per game) lost out on CAA Rookie of the Year honors to Drexel guard Camren Wynter (11.4 points, 5.4 assists, 4.5 rebounds per game).
Toews and Wynter both were honored on the conference's All-Rookie team. He is the 12th Seahawk in program history to be named to the team.
UNCW hopes to keep its season alive in the CAA tournament this weekend. The Seahawks take on Elon Saturday at 6:30 p.m. in the North Charleston Coliseum in the tournament's first round.
Here's the full list of CAA honors:
2018-19 CAA MEN'S BASKETBALL AWARD WINNERS
First Team All-CAA
Jarrell Brantley, Col. of Charleston
Devontae Cacok, UNCW
Nathan Knight, William & Mary
Vasa Pusica, Northeastern
Grant Riller, Col. of Charleston
Justin Wright-Foreman, Hofstra
Second Team All-CAA
Eric Carter, Delaware
Brian Fobbs, Towson
Stuckey Mosley, James Madison
Eli Pemberton, Hofstra
Tyler Seibring, Elon
Third Team All-CAA
Desure Buie, Hofstra
Alihan Demir, Drexel
Troy Harper, Drexel
Matt Lewis, James Madison
Justin Pierce, William & Mary
Jordan Roland, Northeastern
2018-19 CAA Player of the Year – Justin Wright-Foreman, Hofstra
2018-19 CAA Coach of the Year – Joe Mihalich, Hofstra
2018-19 CAA Rookie of the Year – Camren Wynter, Drexel
2018-19 CAA Defensive Player of the Year – Desure Buie, Hofstra
2018-19 CAA Sixth Man of the Year – Sheldon Eberhardt, Elon
2018-19 Dean Ehlers Leadership Award – Paul Rowley, William & Mary
2018-19 CAA Scholar-Athlete of the Year – Tyler Seibring, Elon
CAA All-Rookie Team
Chase Audige, William & Mary
Ithiel Horton, Delaware
Deshon Parker, James Madison
Kai Toews, UNCW
Camren Wynter, Drexel
CAA All-Defensive Team
Desure Buie, Hofstra
Devontae Cacok, UNCW
Nathan Knight, William & Mary
Jacquil Taylor, Hofstra
Dennis Tunstall, Towson
Sports Editor Brandon Sans can be found on Twitter @bsans10. Any tips or suggestions should be forwarded via email to [email protected]