UNCW's Boseman Gallery opens annual All Student Show
The Association for Campus Entertainment's (ACE) annual All Student Show, located in UNC Wilmington's the Ann Flack Boseman Gallery, opened Thursday, Feb. 27, featuring work from any student regardless of major and incorporated mediums ranging from digital illustration to oil on canvas to steel sculptures.
Loraine Scalamoni took home the best in show prize with her piece "Zac Squared." She is a studio art major and a second-time winner. Her piece is an oil painting on two canvases that features three male figures. The larger middle figure is split by the canvases and the two outside figures stand opposite of each other. Scalamoni employs a rich use of color and utilizes broad strokes to add depth to her piece. Another one of Scalamoni's pieces, "The Wind in his Hair" won an honorable mention.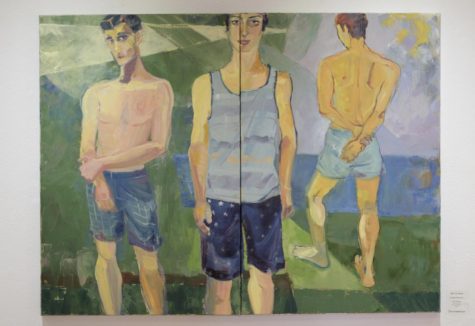 Another winner, Thomas Copeland, received a purchase award for his piece "Growth," a tricolor triptych ambrotype, which is three panels of tintype art using glass instead of aluminum. That piece will be displayed in a UNCW Campus Life space for future generations to enjoy. Copeland wanted to showcase the time he spent at UNCW.
"When I looked at the four years I have spent here, I realized how much the campus has physically changed since I was a freshman. So, I decided to highlight the new buildings being constructed on our campus in my piece," said Copeland.
Copeland is a criminology major with a studio art minor. His interest in art at 15-years-old with analog photography. He still shoots film but also takes pictures on wet plates, makes sculptures and intaglio prints.
"I am very honored to have been given the purchase award. This is the first time I have ever been publicly recognized for any of my art, and I think it is so cool that something I made will now be in the UNCW Collection," said Copeland.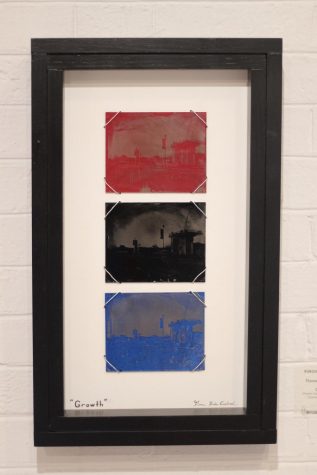 The All Student Show is unique because there is no pre-planning involved and the gallery depends completely on student submissions. At the beginning of the event, awards are given for best in show, purchase awards, Vice Chancellor for Students Affairs choice awards and honorable mentions.
"My favorite part of the show is seeing the pride students not associated with art majors take in seeing their work displayed. It truly captures what the All Student Show is about and that is that no matter what major or career path you choose to pursue, there is no stopping anyone from creating or appreciating true works of art," said ACE Arts Chair Hunter Jones.
Prior to the show, a juror is chosen to select what pieces will be displayed in the gallery. This year Brandon Guthrie, the dean of Arts and Humanities at Cape Fear Community College, was the guest juror. Guthrie graduated from UNCW with two bachelor's degrees in anthropology and studio art, then earned his master's in mixed media and installation from Western Carolina University.
Artist Rilee Knott received a purchase award, a Vice Chancellor for Students Affairs choice award and an honorable mention. Knott explained that she typically does portraits but decided to "shake things up" when producing "Marbelous" and "Little Alleyway." The cityscape depicted in "Little Alleyway" was inspired by a street in Japan.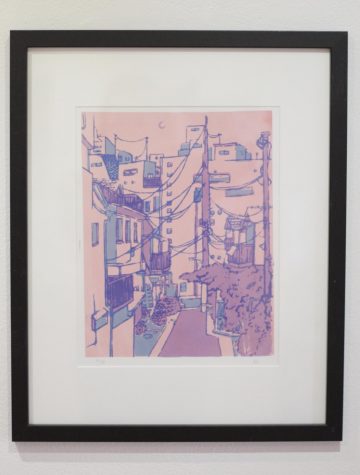 "I was honestly super surprised and didn't totally process what the awards were as they were coming and I had to go back and look at the catalog to see what I actually received. It's so cool to have a piece enter the permanent collection, to know I left something tangible behind after I leave UNCW. I'm very honored," said Knott.
Most of the work in the gallery is for sale. The show will be on display in the Boseman Gallery on the second floor of the Fisher University Union until April 10.