Florence won't stop Wilmington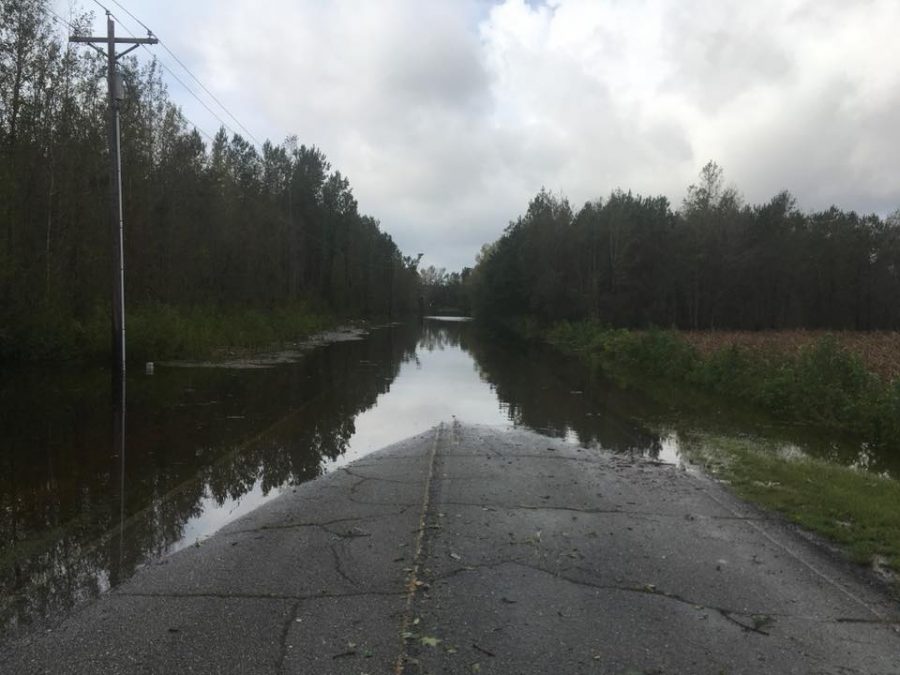 When I say Florence, you say boo. Florence, boo. Florence, boo. Florence, boo.
Every June through October, the east coast waits in anticipation and nervousness for tropical storms and hurricanes. According to CNN, there have already been nine named storms in the 2018 season: Sub-Tropical Storm Alberto, Hurricane Beryl, Hurricane Chris, Tropical Storm Debby, Tropical Storm Ernesto, Hurricane Florence, Tropical Storm Gordon, Hurricane Helene, and Tropical Storm Isaac.
In all my life I have only been through two hurricanes and tropical storms. One when I was born in Florida, the other just last week with Florence.
With that being said, I have never been a huge fan of bad weather and natural disasters. Earthquakes, eh. Thunderstorms — no thanks. Tornadoes, bye. Hurricanes, bye (times two). Even last year, when Hurricane Harvey hit Texas, I was afraid of what might come during the rest of the season to my new home in the Carolinas.
From the moment Florence started making news on Sept. 1, I knew this storm was different. It seemed like every day my family had the news on to stay up to date with Florence's whereabouts. By the time Florence had strengthened to a Category 4 hurricane on Sept. 5, I was ready to head as far inland as possible.
According to the Weather Channel, last year Harvey had made landfall in Texas as a Category 4 and later weakened, but we all saw the damage Harvey did. I wasn't ready for the damage Florence would do.  
As Florence made its way closer to the Carolinas, my family prepped our house and hurricane kit as we struggled with whether we should stay or go.
When classes were canceled in the afternoon of Sept. 10 — yes I still had my 8 a.m. — I breathed a sigh of relief because it meant I could leave sooner and without worrying about missing any classes. That also made my family's decision to leave easier, we left later that night.
As I packed my bags that day, I struggled with what to bring and what to leave. I still couldn't fathom the idea of losing any of my stuff. Yes they were just items and you can replace things not people, but they all held special memories to me. It's hard to fully describe and I hadn't felt that struggle until I forced to rethink what truly mattered to me. I wasn't ready to lose the things that made my life.   
Despite all the warm invitations to take shelter in the home of friends near Charlotte and Raleigh — thank you — there still loomed the possibility of flooding later on, so my family chose to ride out the storm in the mountains.
It felt surreal and sombering watching my home getting hammered by Florence on the news. It got the point where we wanted to watch the news to stay updated, but we also didn't want to watch the destruction. It's one thing to watch it going on like last year in Texas, a place I don't live, and it's another thing to have it be your own town.
At one point Wilmington was cut off and called an island because of all the flooding and major routes to the city being washed away.  Between all the trees down everywhere and rushing ocean water flooding Wrightsville Beach and Carolina Beach, my heart broke.
Every time the news clips or pictures on Facebook showed my beloved town in chaos I just hoped everything would turn out alright. Yes, Wilmington had been through hurricanes and tropical storms before, but everyone was calling this the worst one yet.
My family and I were lucky enough to be able to leave safely and have our house remain intact, but I knew plenty don't have that same story. I will be forever thankful for that. My heart goes out to all those that had to stay, had any damage or lost anything.
Despite the destruction that Florence brought to our beautiful southern beach town, we will get through this. Our community is stronger than any storm that could blow through. We just need to come and work together to rebuild. I have already seen this through various efforts of community members offering their services — restaurants offering food, people donating water and doing whatever they can do to help.  
If you are looking for a way to get involved in helping rebuild our community please visit the Red Cross, United Way, SBP, We Wilm Rebuild — the latter a project started by UNCW students — or even start your own supply drive.
We also can't forget to thank all the first responders, linemen, medical personnel, tree services and news media. Without their efforts, Wilmington wouldn't already be making progress. So, thank you.