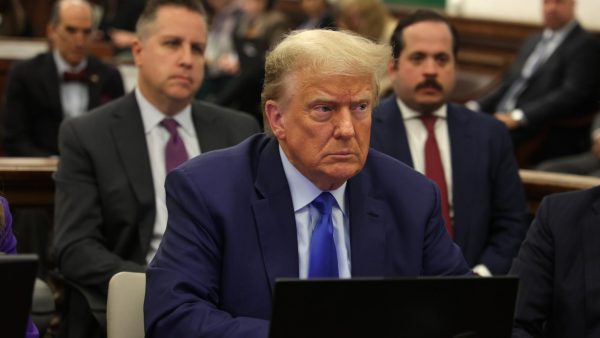 If you have opened social media or turned on cable news at any point in the last few months, then you know that former president Donald Trump has been indicted on criminal charges for his role in an attempted overthrow of the 2020 presidential election. Immediately after the cases were brought against him, Trump posted on Truth Social, his social media platform, about the necessity of the Supreme Court to "intercede;" He was implying that all four charges will be appealed on the basis of them being related to measures he had taken during his presidency.
What Trump was referring to is executive immunity, a type of protection used by public officials as a preventative step from being sued for actions done while completing their job's official duties. Senators and representatives are offered these defenses through the United States' Constitution's Speech or Debate Clause, which provides them immunity from civil or criminal procedures resulting from legislative speech, or official motions made while in Congress. Presidents, however, are not provided such a clear path; There is nothing in the Constitution that plainly outlines presidential immunity. Any related case law that arises depends on the few relevant Supreme Court decisions, although none entailed actually indicting a former president. Commonly confused with executive immunity is executive privilege, which allows officials like the president to withhold various communications from the judicial and legislative branches; United States v. Nixon, however, established that they do still have a legal responsibility to disclose evidence of communications with their aides when that intel is related to a criminal matter.
In plain terms, the president cannot be legally responsible for doing bad things if they can be proven to be a part of their job. The president can also hide secret messages, just as long as they are not linked to a criminal case.
But, why is this important? Trump is always getting into some bullshit, and unless you are a lawyer, poli-sci student or just generally geek over House of Cards, following along with every one of his proceedings has long since felt like a chore. With the words, "monumental impact" being thrown around in every article about politics, the true significance of executive immunity in the U. S. can be hard to comprehend.
To understand this, it is necessary to remember the foundations of our country. The U.S. Constitution was created to protect the people, not the government. The amendments were written to shield American citizens from abuses of power, not to shield American politicians from getting punished for abusing power. The purpose of clauses like the Speech or Debate Clause is to prevent lawmakers from suffering the consequences of acting in the best interest of the people they represent, as all actions have both positive and negative effects; They were not made to protect motions purported on grounds of self-interest. Moreover, while Trump's actions were arguably not a part of his official duties or in the best interest of the American people, his lawyers could still be able to claim otherwise and even win that potential Supreme Court case. If they do, this could very well set a dangerous precedent that prevents future, more upright presidents from fully carrying out the responsibilities of their position.
Recent administrations have produced for us a sort of collective amnesia in which we have all lost sight of the whole purpose of the executive branch in the first place. The presidency is an honor, not an entitlement. As such, it is a responsibility, and not something to take for granted. It is not just another job opportunity or a popularity contest; Treating it as such likely played a part in the downfall of the original decor of the position. If George Washington had been Odysseus in the eyes of the public, then Trump was like a racist Ricky Bobby. The whole title has turned into a joke, leading those who hold it to treat it as such. 100 years ago, a president would never have supported the overthrow of the American government and then claimed it to be a part of his official duties. 100 years ago, even the etiquette of the first presidential debate in 2020 would never have occurred.
Now, this is not to romanticize the presidency, or the U.S. as a whole. Our founding fathers, many of whom were plantation owners, created this country on the backs of African slaves in lands that they seized violently from Native Americans. Even 23 years ago, the idea of having a Black president would have been considered largely impossible. What this is about, though, is that American politics have turned into a modern human circus. The men dress up in clown costumes. The women, mirroring their predecessors, continue to jump through flaming hoops. Big Pharma and the National Rifle Association (NRA) play ringmaster.
With all this in action, can executive immunity still be considered a protection for high profile, sensitive behavior? Or, has it simply turned into a plastic Uno reverse card?
Thankfully, I would like to believe that the likelihood of Trump winning a Supreme Court case using an executive immunity defense is plausibly minimal. In an opinion article for Politico, a political newspaper in Washington D.C., tenured law professor and legal contributor Kimberly Wehle explained that the existing standard for questions about executive immunity lies in "balancing the public's interests in justice with the interests of the presidency." This was developed as a result of the Supreme Court's decision in the Nixon case, where the court refuted the former president's argument that all of his actions were absolutely protected under presidential immunity. Should Trump's cases of election interference go to trial, it should not be particularly difficult for the government to also use the Nixon precedent to argue that any theories about presidential immunity are eclipsed by the basic, essential requirements of the criminal justice system.
Then again, our current Supreme Court is not necessarily a nonpartisan establishment. As much as all the justices like to claim their legal positions to be neutral and based on the Constitution alone, it would be ignorant to accept that assertion and forgo all of their prior decisions which clearly indicated otherwise; The court ruling in favor of Trump solely because of their political affiliation, with no regard for even the most logical of arguments, is a strong potential, and not one to disregard.
In the end, although executive immunity is obviously not going away, its true value is. The Constitution as it was first written in 1787 was not meant to remain in 2023; The document was intended to be revised every 19 years to go on being an act of "right" and not force. Executive immunity is a great example of this, as it has largely lost its original meaning due to the reckless, flawed behavior of recent presidential administrations.
With great power comes responsibility- and a duty to be the bigger person. The presidency needs to once again be considered a burden, and it is up to us to decide in whom to place the onus.
We are tokens in a game we pay taxes for. Do not let Big Brother roll the dice for us.
The 2024 United States presidential election will take place on Nov. 5, 2024. Check your registration status or register to vote today here: Vote.org