Ekdal inks pro deal in homeland of Sweden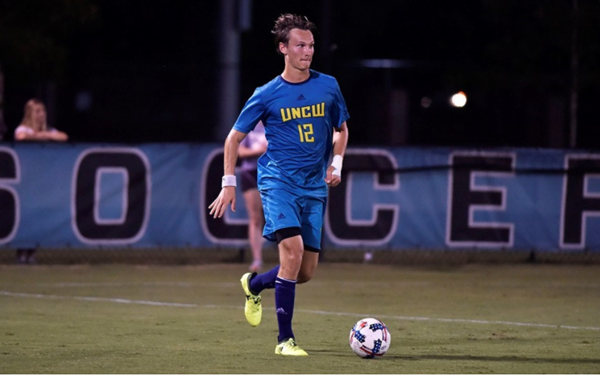 UNC Wilmington men's soccer announced that defender Hjalmar Ekdal has chosen to forgo his final three years of eligibility in favor of signing a professional contract in his native Sweden on Monday.
Ekdal signed with IK Frej in the Superettan, the country's second division of professional soccer. The 2017 CAA Rookie-of-the-Year put pen to paper on a contract lasting through 2019 per the Swedish club's website.
Ekdal made a name for himself as one of the Seahawks' key players over his lone season in Wilmington. The freshman started all 20 of UNCW's games in the 2017 season and contributed a goal — the game-winner in the home opener against No. 3 North Carolina – en route to helping UNCW qualify for the NCAA Tournament for the second time in four years.
Ekdal spoke of how he made the decision to leave Wilmington and turn pro. He said that he had begun to consider it at the start of the spring semester.
"I thought that if soccer is what I want to do with my life, I should give it an honest chance because I want to play at a high level," Ekdal said through UNCW Athletics. "I started to look at going home to Sweden to play at the next level."
Ekdal also admitted that being an ocean away from home friends and family this past season was sometimes challenging, and he will feel comfortable being able to play in front of them again.
UNCW men's soccer coach Aidan Heaney spoke of his support of Ekdal's ambition to play soccer at the highest level.
"We wish Hjalmar well as he embarks on his professional career and will follow his progress with keen interest," Heaney said in a statement released by UNCW Athletics. "This opportunity is one he felt that he should pursue strongly and I support his dream to be a professional soccer player back home in Sweden…we have enjoyed Hjalmar being a part of the Seahawk family and he will always remain a Seahawk."
Ekdal will carry the knowledge gained with him into the next chapter of his career while reflecting fondly on the bonds he shared with his teammates. He feels being at UNCW was a good experience for him, and he "couldn't have had it much better here."