Named permanent coach, Schwier looks to rebuild X-C, T&F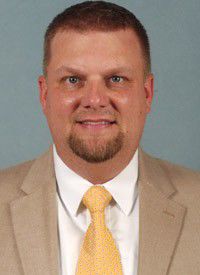 Calvin Shomaker | Assistant Copy Editor | @cshomaker12
September 27, 2016
UNC Wilmington named Layne Schwier permanent track & field and cross-country head coach Aug. 26 after serving as interim head coach for a year and as an assistant coach for the previous 12.
Schwier competed in track and cross-country for four years at Wittenberg University. He began coaching at a Kentucky high school before coaching two years at Ball State University prior to coming to UNCW.
Former head coach Jim Sprecher stayed at UNCW 19 years and won eight conference titles before he left in the summer of 2015 following a two-year battle to keep the program alive due to financial issues. In May 2013 an athletic review committee at UNCW recommended cutting swimming & diving, track & field, cross country and softball in an effort to ease financial budget constraints.
From 2009-2013, the department exceeded revenue and its reserve fund was depleted by 82 percent.
In December 2014, then-interim Chancellor William Sederburg addressed the track & field and cross country teams publicly stating the cuts were a "99 percent done deal."
A group of parents and supporters called "Save UNCW Track" contacted Sederburg to ask for one final chance to save the program by raising $250,000 for the 2015-2016 season. He accepted the request, but mandated that a million more dollars be raised for track renovations. Save UNCW Track and its donor group reached its goal by the June prior to last season, but the scare scarred the program.
Paying the price
According to Schwier, the women's track & field roster was cut from around 50 runners to 25 and the men's team was cut from 35 to 22.
At the Colonial Athletic Association's track & field championship meet, the CAA's other nine schools brought 35 runners each.
UNCW is not the only school facing problems when it comes to funding less mainstream sports like wrestling, swimming, track and cross-country. Of the CAA's institutions, only three offer men's track & field (Northeastern, William & Mary, and UNCW), creating an added pressure to sustain the programs.
"I think Chancellor [Jose V. "Zito"] Sarterelli appreciates the values of track & field and cross-country," said Schwier. "I feel pretty good about where we are at now, but I think once we get the new track we will be here to stay."
Raising hope through fundraising
The city of Wilmington and New Hanover County have pledged to put forth $800,000 over the next three years to help renovate the Harold Green Track & Field Complex – the first priority of qhich is resurfacing the track with new rubber.
The teams are still campaigning for an additional $800,000 that would help replace outdated lights and bleachers. A concession area is also in consideration for the upgrade.
The university, the city and the county are all expected to be able to use the track.
Building on what's already there
The men's cross country team is led by all-CAA junior Alex Boseman. Schwier was the first college coach to recruit Boseman.
"We have a great relationship," said Boseman.  "He's taught me a lot about the science behind the training we do which has helped me make better informed decisions during races and training.
"Coach Schwier really values building relationships with his runners and helping us balance all aspects of our life," said Boseman, who finished third overall his last race. "He emphasizes to us that he only has us for a few hours a day and the difference between good and great is what we do in the time between practices."
Despite the shortage of funding for smaller things, Schwier makes it a priority to ensure his runners have what they need.
"Coach has always made sure we have everything we need for serious training and recovery," said junior cross-country runner Sarah Goodnight. "From training plans to bagels and bananas, he always ensures we have the proper training plans and post-workout nutrition."
"[He's] been a pivotal influence throughout my collegiate running career," said Goodnight. "I have known since the day I started running my freshman year that he deserved to be the head coach at UNCW. His dedication to the team is absolutely unheard of and I couldn't give him enough praise for how much he cares about the success of each of his athletes."
Although the track & field program graduated its two biggest stars (all-CAA selections Meredith Bozzi and Trey Jones), Schwier still expects greatness this season.
"More than anything it [last season] was more of a year of celebrating being alive," Schwier said. "34 and 68 are two numbers that are engraved in my head because that's how many points we scored at conference on both sides which is probably a program low. I told the team this year that our goal is to double both of those which I think we are capable of doing."
One major addition to the men's track team this year is the return of three time all-CAA hurdler Matt Foster. Now a senior, Foster was redshirted last year after a hamstring injury left him out for the season. He accumulated six top-3 finishes in three conference meets as a Seahawk. He won the CAA's 110-meter hurdles his sophomore year and holds the second fastest 60-meter hurdles time in UNCW history.
"Coach Schwier has been an integral part of my experience here," Foster said. "He is a really good role model. He is not the yell at you type of coach, but he nitpicks every single thing that you could be working on to improve. He pushes you through the whole way. He's very hands on."