UNCW Lady Seahawks snap basketball losing streak
WILMINGTON, North Carolina – On Wednesday, Tina Martin got her first win as the UNCW women's basketball interim Head Coach with a 84-59 victory over Mount Olive, snapping a 21 game losing streak that stretches back to December 2021.
"We obviously had a culture here that hasn't been the best, so this is a great win for us to try to turn it around and build off this," said UNCW's leading scorer Mary McMillan, who had a career high 21 points.
The Seahawks outscored the Mount Olive Trojans 51 to 25 in the second half and locked down defensively after giving up 25 first quarter points. 
"The team did a nice job of rotating, taking away the middle so they couldn't fast break on us, and then rotating back into the zone," said Martin on the mid-game adjustments.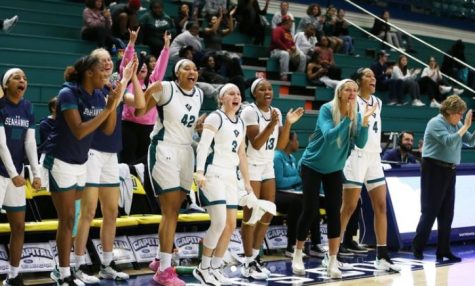 Coach Martin also mentioned the two ACL tears and a broken leg the team has already suffered early this season. "We've had some tough luck here in this preseason…our kids have been a little down for sure emotionally, but hopefully this is going to be the pick-me-up that we need."
One of the players that has stepped up through the injury crisis this team has faced has been sophomore guard Jade Gamble, who had 10 points in the second half and created a lot of turnovers for the Seahawk defense. 
"We've had a lot of people go down so its just like I have no choice but to step up," said Gamble. "Just getting confidence within myself and knowing I can score the ball, I mean I'm here for a reason."
The Seahawks will take on Wofford at home on Tuesday Nov. 22 at home in Trask Coliseum. The game will be streamed live on FloHoops.com and can be heard on 95.9 TheBreeze. Follow @UNCWwomenshoops or visit UNCWsports.com for more on the Seahawks.