Three notable matchups for upcoming men's basketball season
WILMINGTON, North Carolina – The UNCW men's basketball team released its 2021-2022 schedule Wednesday afternoon. After a 7-10 record in the shortened 2019-2020 campaign, Takayo Siddle will look to take a step forward in his second season as head coach.
The Seahawk slate features 16 conference games, 14 home contests and 31 matchups in all. However, three games in particular jump off the page as the season draws closer.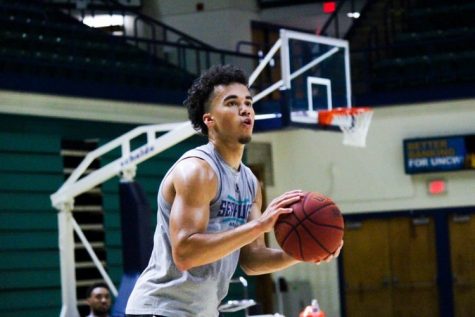 Number 1: UNCW vs Francis Marion (Nov. 4)
Although UNCW's first game action will come in the form of an exhibition matchup, it is hard to overlook the Seahawks' contest against Francis Marion to open the season.
The duel between the Hawks and Patriots will be held inside of Trask Coliseum with no capacity restrictions for the first time since the end of the 2019-2020 season.
"At this time, we are welcoming all fans to Trask Coliseum," said Senior Associate Athletic Director Joe Browning. "This could change at any time, however, since the COVID-19 is fluid and we adhere to all local, county, state and federal guidelines."
With a possible 5,200 fans attending the Nov. 4 matchup, excitement and anticipation build for what could be an electrifying start to the season.
Number 2: UNCW vs Pittsburgh (Nov. 16)
According to the final 2020-2021 NCAA Evaluation Tool rankings, Pittsburgh will be UNCW's toughest opponent this upcoming season.
The Nov. 16 road matchup will be the first between the Panthers and Seahawks. A trip to Pennsylvania to face off against an ACC opponent will serve the Hawks well moving forward in the season and going into CAA play.
The clash between UNCW and Pittsburgh will be the Seahawks' first against an ACC team since Nov. 8, 2019, when the Hawks hosted UNC-Chapel Hill.
Number 3: UNCW vs Drexel (Dec. 31)
UNCW will host the defending CAA Champion Drexel Dragons for the team's second conference matchup of the season.
Both games between the Seahawks and Dragons were postponed in 2019-2020 due to COVID-19 protocols. UNCW's performance against the conference favorites will be a good early-season indicator of where UNCW stands in the CAA.
UNCW's complete 2021-2022 schedule is as follows:
Nov. 4             vs Francis Marion (Exh).
Nov. 9             at Illinois State
Nov. 12           vs Guilford
Nov. 16           at Pittsburgh
Nov. 18           vs Coastal Carolina
Nov. 20           at Delaware State
Nov. 24-26      at Univ. of Montana MTE
Dec. 1              vs Norfolk State
Dec. 11            at Jacksonville
Dec. 15            vs Mount Olive
Dec. 18            at High Point
Dec. 22            vs Campbell
Dec. 29            vs Delaware
Dec. 31            vs Drexel
Jan. 3               at Hofstra
Jan. 5               at Northeastern
Jan. 9               vs William & Mary
Jan. 11             vs Elon
Jan. 17             at Charleston
Jan. 20             at James Madison
Jan. 22             at Towson
Jan. 27             vs Northeastern
Jan. 29             vs Hofstra
Feb. 3              at Elon
Feb. 5              at William & Mary
Feb. 12            vs Charleston (Homecoming)
Feb. 17            vs Towson
Feb. 19            vs James Madison
Feb. 24            at Drexel
Feb. 26            at Delaware
Mar. 4-7          at CAA Championship | Washington, DC