'Hawk Box' mailbag: Camels, Tar Heels the main focus for men's programs this weekend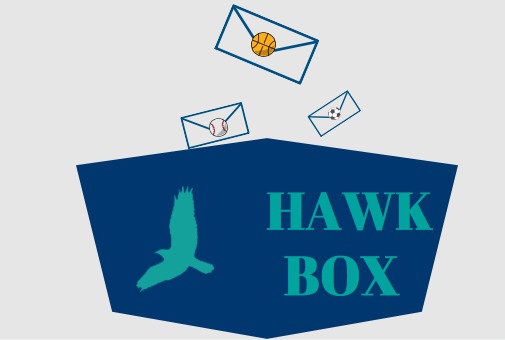 Hawk Box is a weekly mailbag where The Seahawk's sports staff will answer fan questions regarding UNCW Athletics. Got a question? Submit it here. 
UNCW visits Carolina this weekend for the 2nd round of the NCAA Tournament. We beat them earlier this year at home. Do you think we can pull it out again?
In short, I think the Seahawks can beat UNC as long as they truly have put their late-season struggles and this week's Colonial Athletic Association championship game collapse against William & Mary behind them.
It's always calming as an athlete to have already proven you can beat a team, so in that respect, it's fortunate UNCW drew North Carolina's bracket as opposed to another top team.
I wrote about it more at-length here, so feel free to check it out.
Will Saturday be the day Jaylen Fornes finally breaks out for a big game?
Let's hope so, for the sake of my credibility. I picked Fornes to be UNCW's breakout star this year, and I still think he has the potential to be just that. A larger role in his sophomore season has resulted in Fornes becoming the youngest starter for the Seahawks and has translated to 11 points per game thus far. He hasn't struggled with his shot, hitting 7-of-14 attempts in two games. But whatever Fornes brings to the table has taken a backseat to the drastic increase in production brought on by a now-starting Jordon Talley and Devontae Cacok, the latter of whom is averaging more than 21 points and 16 rebounds per game.
The biggest key for Fornes is seeing if he can finally settle into a groove offensively for UNCW. Campbell hasn't played a team yet that plays in a style similar to the Seahawks, which could open up the door for Fornes to score more points in the open court and on fast breaks.
Last game, all the assists came from Jordon Talley. What does UNCW need to do to spread the ball better?
This statistic was a head-scratcher. Of UNCW's 15 assists against Davidson, Talley distributed 12 of them. Two more came from Devontae Cacok. For the Seahawks to be more efficient on offense, they will have to work harder to move the ball around at a higher rate than they did on Tuesday. C.B. McGrath didn't mention anything about his team's ball movement in his weekly press conference on Thursday, but the Talley's monopoly on assists shouldn't be expected to continue on Saturday against Campbell. Practice makes perfect, I guess.
How do you think the Seahawk defense will handle Campbell's Chris Clemons?
The Camels return Clemons, who averaged the second-most points per game in the NCAA last season with 25.1 as a sophomore. After initially declaring for the 2017 NBA Draft, he withdrew his name from consideration and has averaged 33 points in two games so far.
There are two obvious weaknesses that stand out when scouting Clemons. The first is his height which, being five feet, nine inches tall, is still four inches shorter than UNCW guard Jordon Talley, who is also undersized at his position at 6-foot-1. In fact, outside of Talley and 5-foot-10 guard Jacque Brown, any player the Seahawks might put on Clemons could disrupt his rhythm, which is all you can hope for. Clemons is the threat that he is because he is an as-advertised scoring machine. The only player I could see shutting him down would be forward Devontae Cacok, but only if Clemons tries to drive to the paint.
The second and more likely trait the Seahawks will take advantage of is Clemons struggles to create for his teammates, which is something NBA teams told him when he went through pre-draft evaluations. Clemons averaged 2.6 assists per game last season, the same as Talley who did not start for the Seahawks. Even though he's improved to dishing out 4.5 assists in the early season, Clemons is still focused on scoring the ball. Instead of trying to fight a losing battle by attempting to shut him down defensively, more effort and energy should be focused on the four Camels surrounding Clemons to eliminate as much help he may receive as possible. There are only a few people on the planet who can beat a whole team on a basketball court and I promise you they will not be in Wilmington on Saturday night.
Do you think UNCW will overachieve this year and contend for another CAA championship?
Before anyone can talk about overachieving or contending for any sort of championship, the Seahawks must play better defense. North Carolina Wesleyan, an NCAA Division III program, scored 81 points against UNCW but were held to 48 points when it lost to UNC Greensboro on Wednesday.
In UNCW's second game, it allowed Davidson to score 108 points, the first time an opponent scored over 100 points since Dec. 27, 2014, when UNCW lost 108-82 to Minnesota. Wildcats forward Peyton Aldridge set a career with 37 points, which was the most points ever the Seahawks have given up to an individual opponent.
Fortunately, improving on defense is something all three of Cacok, Talley, and coach C.B. McGrath have emphasized. It is something that can and should improve as the season progresses and the team gets more comfortable with its new system. There's no need to write off the season after two games, but it is something to keep an eye out for, especially as Clemons comes to town on Saturday night.
Sports Editor Noah Thomas and Assistant Sports Editor Brandon Sans can be found on Twitter @NoahILM and @bsans10. Any tips or suggestions should be forwarded via email to uncwseahawksports@gmail.com. For video updates from The Seahawk, subscribe to our YouTube channel.