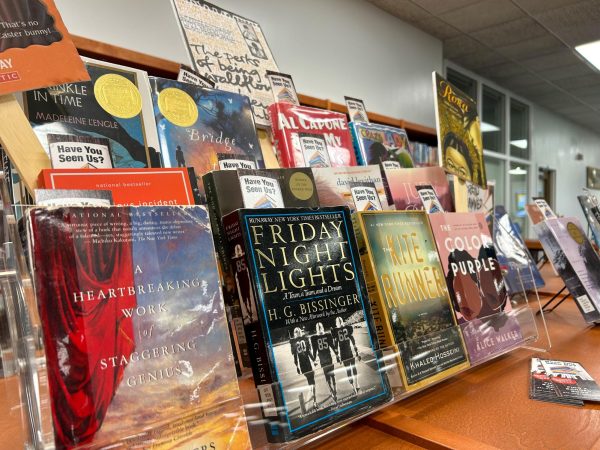 Libraries across the United States celebrate banned book week from Oct. 1-7. Randall Library held their annual banned book read-in on Thursday at 3:30 p.m.
Chris Robinson, opening speaker and coordinator, welcomed and expressed gratitude towards those attending the read-in. Robinson gave historical background information about the first banned book in the United States up to current times. The book was "New English Canaan", written by Thomas Morton, was banned in 1637 in Quincy, Massachusetts. The book was banned as it went against the Puritan government as it was about the critique of customs and power structures.
"Every person deserves to see themselves in the literature that we read," said Robinson.
The second speaker and coordinator, Michell Manning, described her personal experience with book bans within the education field. This inspired her to create the annual fall banned book read in at Randall Library that started in 2011.
"My students are continuously stunned that their beloved books are on the stand for a challenge," said Manning.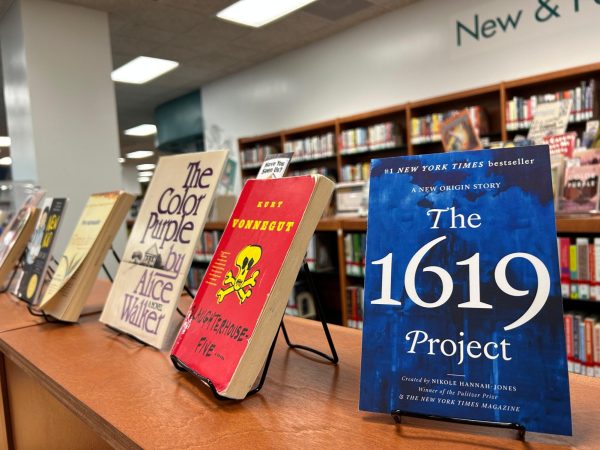 Multiple guest speakers read excerpts of banned books of their choice and shared their opinions or experiences with the novels.
Student, Tyler O'Brien, opened by reading an excerpt of "Catcher in the Rye" by J.D. Salinger. O'Brien explained how he has deep connections with the book as he was a troubled teen and related with the main character in the novel.
"I think it is necessary to give into that negativity that we all share at one point in our lives. It is okay to not be okay. Negativity is a part of life. You cannot go on smiling every day because it is not realistic," said O'Brien.
Mckinlee Watson read the preface of "Fahrenheit 451" by Ray Bradbury. "I read the first two pages and they spoke to me," said Waston. The first two pages speak about how society views censorship and their personal interpretations of the book for it to be later a banned book in schools. Her graduating class in high school was the last class to read "Fahrenheit 451" before it was banned in schools. Quoting her high school English teacher, Watson said, "I cannot believe they censored a book about censorship."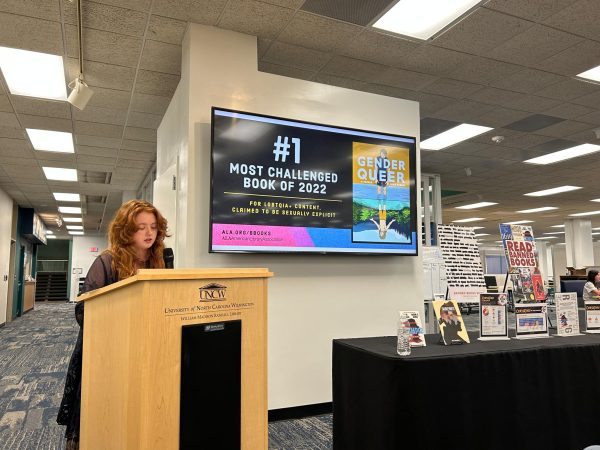 Forrest McFeeters, president of Alpha Phi Alpha, read an excerpt from "Stamped: Racism, Antiracism, and You" by Jason Reynolds & Ibram X. Kendi. McFeeters spoke about how this book is a "compromised banned" book in New Hanover County as it has been recently challenged by parents and the school board. McFeeters read the children's version of the book because he wanted to get the perspective of what a child may read. "Stamped" explains racism throughout the centuries by using clear language," said McFeeters. McFeeters explained how this book creates conversation about true American history.
Brook Jurecka spoke about the novel "American Psycho" by Bret Easton Ellis. Jurecka noted that "American Psycho" is controversial for the contents of murder, sexual imagery, misogyny, and glorifying psychopaths. Jurecka explained how the book was turned into a film adaptation that received a lot of backlash but was not banned from the public. "If the film is accessible, then why not the literature?" said Juercka.
"Sometimes being uncomfortable is what keeps you safe," said Juercka, giving her opinion on banning books.
JJ Elliot ended the event by reading from the graphic novel "Gender Queer" by Maia Kobabe. Elliot explained how reading books about LGBTQ+ has helped them figure out who they are today. "I had a lot of thoughts that I could relate to," said Elliot.
"This book may not be written for you, but it is written for someone out there," said Elliot.