UNCW Theatre Department to present 'Kindertransport' as first fall production
Olivia Vizethann, Staff Writer
September 29, 2022
UNCW's theatre department is kicking off the fall season with their first production, "Kindertransport." Diane Samuel's 1993 play takes place in three different time periods, following the life of young Eva, a German child who is sent to a foster family in England to escape the Nazi regime. Eve Wengal, an exchange student from London, will be playing the role of Eva.
This production tackles a rather extreme topic. 'Kindertransport' is a German term that refers to the smuggling of children out of Nazi-occupied areas in the months leading up to WWII. "This is a very common topic in history classes, but I never knew about Kindertransport until I heard about this play," said theatre student Raelynn Clark, who plays Evelyn, the older version of Eva. "I hope [the audience] walks away knowing that this tragedy was more far-reaching than they thought."
"The subject matter of the play is always going to be relevant," said Allison Garret, who plays Helga, the biological mother of Eva. "We won't shy away from learning about the events of the Holocaust anytime soon. We are choosing to showcase the lesser-known part of history with more depth and emotion than we may have gotten in school."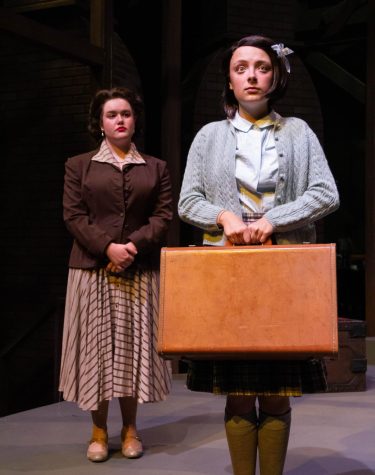 When asked how Garret prepared to play her role, she described how she used her own life experiences as a steppingstone. "I had to think about every single time that I have interacted with children, notice how I would normally interact with them, and then flip it about 160 degrees," she said. "Not the full 180 because I'm not being mean to Eva, but it's enough of a flip that it doesn't seem like it would be anywhere near normal."
Since this play spans multiple time periods, the details in costumes are essential in telling the audience where the characters are in time, since it is never explicitly stated. Alessandra Mantovani is the costume designer for this play. Mantovani embraced the challenge of highlighting the characters' personalities while staying true to the times. "The entire play's costumes are very period accurate," she said. "The 'modern day' actors all wear 1980's inspired clothing while the characters from the past have costumes from the late 1930's and mid to late 1940's. The costume changes and choices are meant to help reflect time and show Eva at different stages in life."
Mantovani continues on to say she made the decision to dress Eva and her older self, Evelyn, in blue in homage to the Israeli flag and the character's Jewish roots. "I wanted there to still be this sort of subconscious acknowledgment that an old part of her is still there," she said.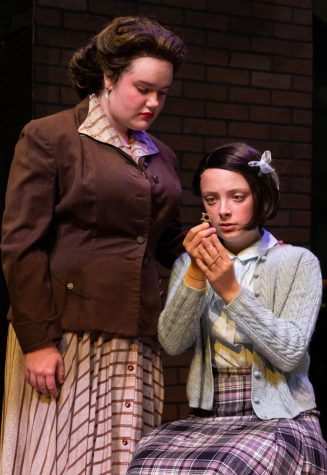 Abigail Hamm plays Faith, the daughter of Evelyn. Early in the production, Faith discovers old belongings of her mother in the attic that expose Evelyn's past as a foster child. As the play continues, all three timelines are tied together into one family's story. "I think it is important that we see the inter-generational effects of Eva's struggles in real time with the discovery of the truth behind them," said Hamm. "We see Eva growing up as we see her grown up, and we learn to understand the weight of these events on even those whom they did not directly affect."
"Eva's character arc is the center of the whole production," Hamm asserted. "Her experiences span a broad timeline, which allows audiences to understand the true magnitude of what she went through."
UNCW's theatre department is eager and proud to share "Kindertransport" with the audience. It is powerful, emotional and offers more than just the historical aspects of the play. "Overall, I think this play is one that will make you want to give your family a big hug or just call them," said Garret. "I think that I would want the audience to understand the importance of family and just how much of an effect someone can have on you."
"Kindertransport" will appear on the UNCW stage the next two weekends: Sept. 29 through Oct. 2 and Oct. 6 through 9.