Seahawk Softball makes history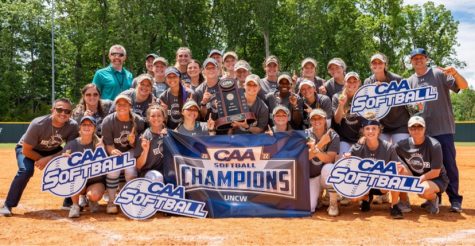 ELON, North Carolina – For the first time ever, the UNCW softball team will be going to the NCAA Tournament. The Seahawks took down Hofstra, Delaware and Elon in three consecutive days to be crowned CAA Champions.
Morgan Britt led the Seahawks in the final game against the Phoenix, going 3-for-4 at the plate with two doubles and a home run. 
UNCW trailed 2-1 before the tides turned in the fifth inning when freshman pitcher Emily Winstead came up with a big-time bases-loaded strikeout to get the Seahawks out of the jam.
In the bottom half of the inning, the Seahawk bats came alive. UNCW scored eight runs before recording their first out.
In the bottom of the sixth inning, the Seahawks extended their lead to eight, which reached the mercy rule and officially stamped UNCW's ticket to the NCAA Tournament.
UNCW will be playing in the Clemson Regional, which features Clemson, Auburn and Louisiana, for a chance to make even more history this season.
For more information, follow @UNCWsoftball on Twitter and visit UNCWsports.com.