Hawks upset nationally-ranked Penn State
Katie Riess, Staff Writer
March 16, 2022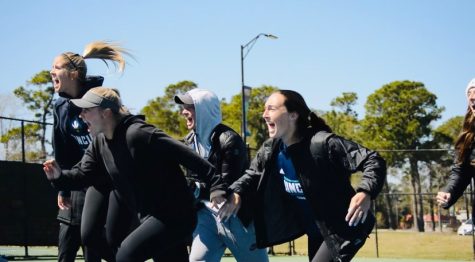 WILMINGTON, North Carolina – This past weekend, UNCW women's tennis defeated nationally-ranked Penn State in shutout style, 7-0, in the first ever matchup between the two programs on the courts.
The win improved the Seahawks' record to 8-2 with a 6-1 record at home.
The two teams battled back and forth during singles, until UNCW's Anna Daniels clinched the match with a win.
Sasha Belaya and Lauren Gish also secured their singles points for the Seahawks for a final score of 4-3. 
"Today was epic," UNCW Head Coach Hans Olsen said after Sunday's victory. "To beat a nationally ranked team, the first nationally ranked team on our schedule this year, to beat a team in the Big Ten, to compete in the doubles the way we did and fight in the singles was a huge step forward for our team." 
UNCW will host conference-rival William & Mary for a noon match on Thursday, Mar. 17.