CHHS nursing school students and faculty help deliver vaccines in Wilmington
On Feb. 4, students and faculty from the College of Health and Human Services (CHHS) nursing school helped deliver coronavirus (COVID-19) vaccines to locals in Wilmington.
Since Wilmington has begun their COVID-19 virus vaccine roll-out, The Pointe 14 Cinemas has served as a distribution center for people to receive their shots. 25 students and faculty (one faculty member for every 10 students) from the nursing school assisted in vaccination efforts at The Pointe. This number was chosen based on the allocation of vaccines for the day at this location.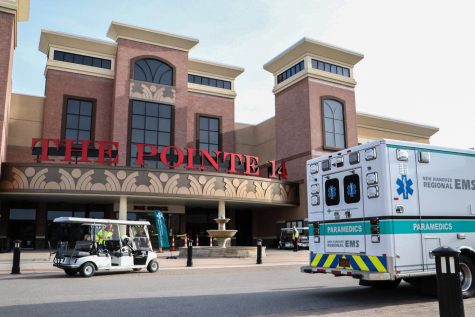 Some students and faculty were stationed inside the theater giving vaccines while others were placed at the "mobile unit" where they would administer the vaccines to people in their cars if they were unable to come inside due to health issues.
"It was very rewarding. There were tons of older adults in line waiting for their vaccine. The theatre was really organized so the lines moved pretty quickly," wrote Sydney Meadows, a senior in the December 2021 cohort. "I think all healthcare professionals should help out if they can make the time. It was a wonderful experience, and something that I will remember for a long time."
Emily Petralia, a fifth semester nursing student part of the spring 2021 cohort, wrote that she had never seen so many people excited to receive a vaccine,
"Most people dread getting their vaccines such as flu, shingles, tetanus, etc," wrote Petralia. "My time at the clinic gave me hope for the end of this pandemic, and I hope the data proves me right in the weeks to come!"
All of those involved said they would definitely volunteer for something like this again. 
"We are hoping that when we return to the theater to receive our second dose of the vaccine that we can volunteer like we did the first time," said Naomi Benditzky, a senior in her fourth semester. "If this is not the case, I am planning on seeing if I can volunteer on my own because I would love to do it again."
Madison Lopez, a nursing student in the December 2021 cohort, wrote that participating in this event made her feel important. She added she felt like she was doing her part to help end the pandemic, especially since she has not considered herself a frontline worker given that she is still a student. 
The three prominent individuals involved in this process were Nina Williams, prelicensure clinical coordinator for the School of Nursing and staff nurse at New Hanover Regional Medical Center (NHRMC); Christy Spivey, the NHRMC hospital liaison; and Penny Sauer, prelicensure program coordinator and associate professor for the school of nursing. 
After coordinating more details with Sauer, both women began the clearance process for the students and faculty so they could help at the clinics.
Students were assigned based on their seniority in the program, beginning with seniors and then juniors. 
"The decision to involve the nursing students in this event was truly a win-win situation," wrote Williams. "Our nursing students are taught early in the curriculum how to administer intramuscular injections, therefore very little additional training had to be given to assist with administering the vaccine. Each student was given additional computer based learning modules implemented through the CDC focusing on the COVID-19 virus and vaccine administration. The opportunity to come together and help deliver the vaccines to the community has been both beneficial and rewarding."
This opportunity was made possible through the longstanding partnership that the CHHS has with local health and human services providers in the Cape Fear region.
"Our students frequently complete internships, clinical and field placements with these agencies as part of their required applied learning experiences," wrote Ashley Wells, assistant dean for community engagement CHHS. "Because of these relationships, and the skill sets of our faculty and students, health care administrators reached out to our School of Nursing for assistance with staffing the mass vaccination sites."
New Hanover county is currently in group two of five, which allows adults 65 and older to receive their vaccine. According to the North Carolina Department of Health and Human Services vaccine data dashboard, the state has administered over 1 million vaccines. 
"As I told my students: "We are now making a difference and creating history." It is my hope and goal to help each student see how they, as future healthcare professionals, are making a difference now. This is the light that will out shine the darkness," wrote Williams.