Seahawk spotlight: Recent graduate uses newspaper skills at TV position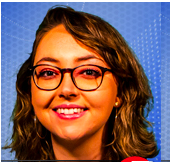 Hang on for a minute...we're trying to find some more stories you might like.
UNCW has many opportunities for its students to apply the knowledge they have gained into real-world scenarios, giving them a glimpse of life in future opportunities outside the nest. Over the years, The Seahawk has prided itself in being a jumping-off point for students into the professional world.
Maddie Driggers graduated in December 2018 with a major in English and a journalism minor. In her last semester, Maddie Driggers was the lifestyles editor of The Seahawk.
She used the leadership skills she gained from serving in other positions to take the challenge head-on.
"I had served in leadership positions prior to getting the editor position, so I feel like those truly prepared me to lead a team of writers and understand how to best serve them," Driggers said.
The Seahawk gives student journalists an opportunity to apply their journalism knowledge in ways where they can become familiar with the creating, editing, and publishing process that all newspapers must go through before reaching the storefronts and driveways across the nation.
For those that have never taken a journalism class, it becomes a networking and learning opportunity.
"I don't believe you have to be a journalism student or know all the rules associated with journalism to write for The Seahawk, I think it definitely helped me to be a better writer from the start and focus on content rather than the rules," Driggers said.
Maddie minored in journalism. Writing for The Seahawk, she was able to apply her knowledge from classes in a real-world scenario. In doing so, she gained the experience needed for life after college.
"I give my journalism courses a lot of credit for preparing me to write for The Seahawk," she said. "Being familiar with AP style was probably the greatest contribution from my journalism classes," Maddie said.
While she studied at UNCW, said she "served in leadership positions at UNCW prior to getting the editor position."
Driggers was a staff writer for The Seahawk for 6 months prior to becoming the lifestyles editor in her last semester. Today, she works as a producer for WWAY News in Wilmington.
"I produce the 6 p.m. and 10 p.m. newscasts Monday through Friday," Maddie said.
Broadcast news and journalism have different reporting requirements. Though they produce news for the people in certain areas, broadcast news and journalism follow two separate guidelines for reporting.
"I never really pictured myself working for a broadcast news company since that was never my focus at UNCW," she said. "In terms of skills and experience I gained from The Seahawk, it definitely helped me to prepare for my job at WWAY. I know how to determine what is newsworthy, how to write an engaging script and how to work with other team members to get help but also to how to complete work independently."
Not every path is a straight line.
"My path to get to WWAY will always be different than someone else's. However, I think if you are passionate about news and willing to put in the effort to get where you want to go, you'll be successful, and I believe The Seahawk is the way to accomplish that."
She added that "for anyone aspiring to be in a journalistic career, I would say that my number one piece of advice would be to stay updated with what's happening around you. Whether it's in your school, your city, your state, your country, or the world, knowing what's going on around you is the key to success."