Campus ministry holds Thanksgiving meal to celebrate diversity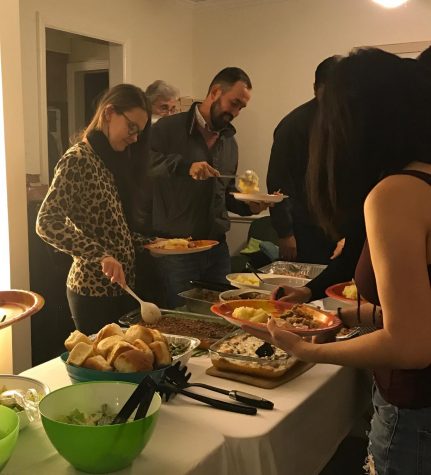 Gratefulness and thanksgiving, these are the pillars of many of the world's religions, and in a time where cohesiveness seems almost impossible, many religious organizations have made it clear that it is the most important time to reach out and create bonds in the UNCW community.
On Monday, November 19, the UNCW Catholic Campus Ministry held an interfaith Thanksgiving dinner to celebrate the diversity between religious organizations found in Wilmington. The night celebrated people from all walks of life coming together in friendship after a hard semester. Many members of Hillel and other student religious organizations were invited to attend.
The night included a full Thanksgiving meal, with mashed potatoes, green beans, sweet potato casserole, biscuits, and many other dishes. At the end of the dinner, there was singing and dancing. Many students took pictures and laughed together about recent events in their lives.
Sister Rosemary Mcnamara, or Sister Rose, is the campus minister for the Catholic Campus Ministry, and had the idea to invite faith groups to the ministry for Thanksgiving. She is from Queens, New York, which is one of the largest centers of diversity in the world. On the night of the interfaith dinner, she shared stories about her family's and families of different faiths bonds that were created through fellowship in New York and emphasized how important it is to be kind to one another in the face of loss.
The Wilmington area and many of its students have suffered many losses this year. After losing a month of instructional time and having many homes destroyed in the wake of Hurricane Florence and the Philadelphia Tree of Life temple shooting that deeply impacted the Jewish community in Wilmington, Sister Rose believed it would be good to reach out to Hillel and show support.
UNCW religious organizations have shown massive support for each other over the last few months. Many members of the CCM, CRU, and other religious organizations on campus were present at the Hillel Vigil on November 5 in support of the Tree of Life congregation that lost 11 members in a shooting on October 27.
Hillel Co-president Samantha Rapp, who was in attendance at the dinner, said, "I believe it's important to have positive relationships among various religious groups because we need to celebrate what we have in common, which is far more than what we differ in. This time of year is about Thanksgiving, two groups of people who come together to celebrate. I'm proud that Hillel and Campus Catholics were able to come together and bond over awesome food and good conversation. With all of the attacks happening on groups of faith around the country it was refreshing to have a safe, comfortable space to celebrate Thanksgiving."
Mass services for CCM, located on Racine, are at 5:30 on Sundays. Anyone who is interested can visit: newman-uncw.org.