Four Season Fibers: UNCW student creates own knitting business
Casey McAnarney, Editor-in-Chief
January 18, 2018
Many families have skills and talents that they like to pass down to their children and grandchildren, whether it be a special game or a handy hobby. One UNC Wilmington student is turning her pasttime that she learned from her grandmother into a growing business.
Becka Jackson, a junior studying creative writing, was first taught how to knit when she was about 6 years old by her grandmother. The two would sit next to each other on the couch, the grandmother knitting large blankets and Jackson working on scarves.
"At like 6 or 7 you can't really hold the needles well," Jackson said, "everything I made was kind of pretty horrible."
When Jackson was 12, her grandmother passed away, and she was left all of her family member's knitting supplies. Though she had fallen out of practice, receiving the yarns and knitting needles that she had shared with her grandmother as a child inspired her to take up the craft once again and to really hone her talents this time. Jackson picked up the needles and researched knitting techniques from books and the internet. She retaught herself the skill that her and her grandmother once bonded over.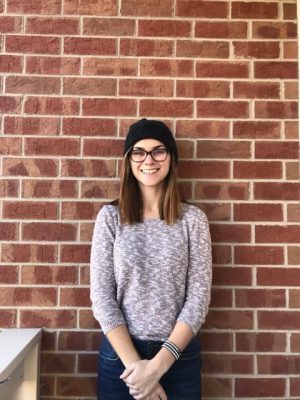 "There is like a huge learning curve," Jackson said. "It's not hard to learn how to knit but it is hard to learn how to make things look good. I have had so many years of just making things that look bad. Now I am at a point where I can sell things, which is pretty cool."
Now 20 years old, Jackson has been knitting regularly per requests from family and friends. For the past two or three years, Jackson said people in her life have asked for her to knit goods as gifts, even offering to pay for her services at times. Jackson began by charging the cost of materials in order to provide gifts, but as compliments turned to encouragement and support of her making a profit from her work, Jackson began to see new opportunities.
"'Oh! You could sell this. You should really start charging for this kind of thing,'" is what Jackson said her family would exclaim. "And I just started thinking about it. This has been so many years of making [knit goods] and I have spent so much time on learning how to do this skill. It is not something that everyone can do, so I should start charging for it."
Four Season Fibers is Jackson's first venture into making a business out of her craft. She created an Instagram for this new business in the hopes of selling her wares to people beyond family and friends. The biography of the public account reads "20 year old grandma" and "stylish and simple creations to live in." 
Jackson's plan to create a business did not fully form until UNCW's creative magazine, Atlantis, held its release party for the 76 issue on Nov. 10 at Lucky Joe's Craft Coffee in Wilmington. During the event, Jackson learned that there were shelves at the venue housing local, handmade goods and art for sale.
"They had a lot of empty racks, so I went up to the counter and said 'Hey, need more local artists to sell stuff? Because I can knit stuff,'" Jackson said. "And they said 'We would love that.' It was just so random and perfect, I was not even looking for a place to sell my stuff. Once I got that agreement figured out, I got really excited."
Jackson began planning out new products to make and registered for a local holiday market, which occurred Dec. 9. That was Jackson's first-ever market visit where she was selling her own products.
"It was so much fun, and I really want to do another one now," Jackson said.
At the market, Jackson was able to display some of her favorite designs. For instance, she unveiled a hat pattern that she said is "very popular." It was a double brim hat, where the band across the ears of the hat was knitted over twice. The hat is super stretchy, warm and looks good on both men and women, according to Jackson.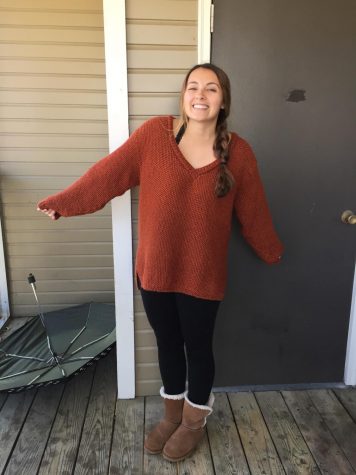 Another popular item Jackson has made during her knitting career is a sweater for an old roommate, Sam Wang. One of her earliest sweaters, the item took Jackson a year to make, and Wang frequently lends the piece to friends due to the quality of the product.
Jackson also understands the possibility of failure when it comes to projects like these. When initially relearning to knit, Jackson failed at making a blanket, a hat and gloves. These now sit in a box at her home in Colorado, and serve as a reminder that a lot can be learned from failure.
Nevertheless, Jackson's now bonafide business is a true passion project. She has visited with the Register of Deeds and started up a Four Season Fibers website over winter break.
"My true passion is making clothing, and I think where I am now [making accessories] is just the first rung of the ladder," Jackson said. "I am not sure how, but I would love to sell custom garments like quality sweaters, flowy tanks and intricate scarves. It could be that I sell to boutiques, or it could be that I eventually have my own store, but I want this business to grow beyond just making hats and mittens."
While these small creations are fun and great for practicing her design, they are not challenging enough to sustain her, Jackson said. She has worked for years on her technique and craft, so to never venture any bigger would be to cheat herself.