Tips, tricks and stories of North Carolina's best thrift stores
Oversized button ups, mom jeans, vintage jackets, western style belts, ironic or distressed t-shirts. While these things can easily be found at places such as Forever 21, TopShop or Pacsun, there is the more environmentally friendly, affordable and dare I say authentic way of finding this season's trends.
North Carolina offers several unique, jam-packed and often funky smelling thrift stores across the state, many of which I have spent far too many hours — and dollars — in. Any of these stores can be hits or misses, leaving me with everything I could ever want or nothing at all. My advice: go in with an open mind, a good attitude and a plan to shower as soon as you get home.
GCF Donation Center & Store, 709 S Kerr Ave, Wilmington, NC.
The local Goodwill has been my staple thrift experience while at UNCW. My friends and I often go here when we need an outfit to match a party theme. The best examples I can give are the time I forced my friend to buy a bright orange mesh crop top construction poncho "just in case" she'd need it for a Halloween party last year. When shopping here, bring cash or a check, low expectations and enough confidence to shop through the men's, women's and children's section before finding something worthwhile. My most notable scores from here include a Tweety Bird embroidered men's extra large t-shirt, several mom jeans and cropped turtlenecks and quite a few vegetarian cookbooks.
Various thrift stores in Calabash, NC, near Sunset Beach, on Beach Dr SW.
If you are ever bored at Sunset Beach on a rainy day, hitting this seemingly endless strip of vintage, consignment, and thrift stores is way better than going to play putt putt. However, almost all of these stores close around 4 or 5 p.m., so plan accordingly. These various stores are great because they are unbelievably quirky. A friend and I once spent an entire afternoon hopping from place to place, trying on random wigs, hats and clothes and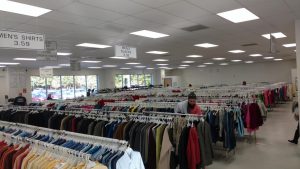 also walking away with some major finds that included vintage Russian space race patches, oversized denim jackets, button up men's shirts that are so ugly I consider them cute and a wall plaque of a sailor smoking a pipe.
Kiwanis Thrift Shop, 503 W State St, Black Mountain, NC 28711.
Kiwanis is close to Asheville and is by far my favorite thrift store. It is on the smaller size and run by a mob of sweet old ladies. The prices are considerably cheaper than the standard Goodwill but their content is high quality, reminding me more of an upscale consignment store. During a mother-daughter trip around the area last summer, my mom and I spent a solid two hours picking the store apart and making small talk. Walking away, our best purchases included Ralph Lauren and Tommy Hilfiger mom jeans, a vintage silk pajama set, an Anne Klein blazer, an array of floral items and, to the delight of my mother, a London Fog trench coat that was good as new after a trip to the dry cleaner. To this day I think about this store, all its charm, and most regrettably, a vintage leather luggage set that I couldn't bring myself to splurge $150 on.
Goodwill Retail Store, Outlet & Workforce Development Center,  1616 Patton Ave, Asheville, NC 28806.
This store is not for the faint of heart but it will offer an unbelievable experience. It is located in a giant glass building, half of which is a standard Goodwill, the other half a warehouse full of giant, dirty industrial bins for you to sift through. It can be gross, but it is also dirt cheap because the clothes are sold by the pound for somewhere around $5. During my hours sorting through the clothes bins I scored three pairs of Levi's mom jeans, a Levi's denim jacket and a vintage sweatshirt saying "Hockey Mom" with a cartoon woman on it dressed with a black eye and missing tooth. Be prepared to be disgusted as well as aggressive here — it makes finding things to buy that much sweeter.
PTA Thrift Shop(s), 125 W Main St, Carrboro, NC 27510 and 103 S Elliott Rd #103, Chapel Hill, NC 27514.
As a Chapel Hill native, I have visited these thrift stores for as long as I can remember. My brothers and I grew up donating our old toys and clothes to the one in downtown Carrboro and would search for costume possibilities around Halloween time. I never know what I'll find when I walk into the newly renovated Carrboro PTA as far as clothes go; it has been more of a miss the past few times I have visited it. Therefore, more than any other places on this list, expectations must be kept low for these. However, they consistently have a hefty record stock to offer, which never disappoints and is dirt cheap at something like five records for a dollar. 
The PTA store in Chapel Hill has always had my back when it comes to mom jeans and shorts; they're cheap to buy and easy to alter if they don't fit just right. In addition, I have also found several Midwest-style leather belts there for cheap. Although most locals try to avoid them now, I'm still nostalgic for both of these stores and I visit every time I'm home.
***
Thrift shopping can be a gross, disheartening, frustrating experience. It can also be a spectacular one. I have found some of my best, most unique, widely complimented articles of clothing from places on this list. I have also watched as a friend tried on a prom dress in one of these, only to realize it had a large, crusty stain spewed across it. Regardless, thrift shopping is a unique and rewarding hobby if you take the chance, stay positive and maybe bring a buddy or listen to your favorite playlist while you're at it.
Are we missing some of your favorite thrift stores across North Carolina? Let us know at theseahawk.org.