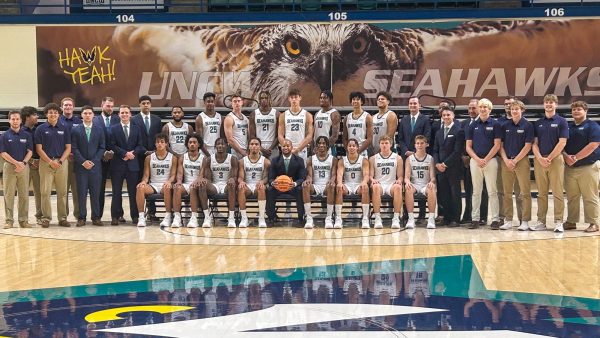 On Oct. 3 and 4 the UNCW athletics department held a media day for the men's and women's basketball teams. There are private interviews with a number of impactful players, and a  conversation with the new head coach of the women's team, Nicole Woods. The players interviewed have a range of experiences that they were asked about below. The UNCW basketball programs have promising seasons this upcoming year.  
UNCW Men's Basketball Press Conference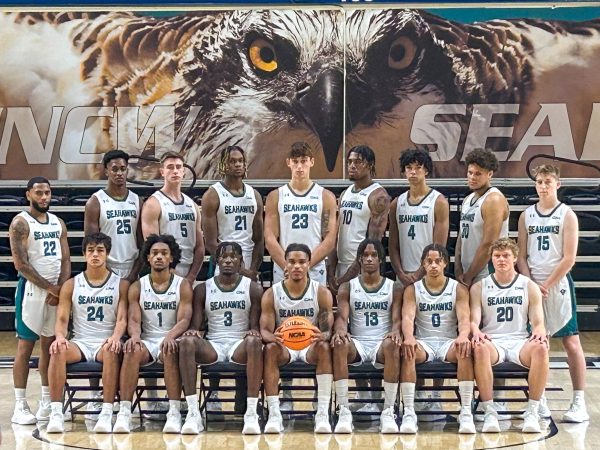 Shykeim Phillips #2 G (Guard)
Entering your fifth season with the program, how do you feel about your experience coming into this year? 
I feel like it [my collegiate experience ] is going to play a big part in our success, this is my fifth year so I have seen it all, I have been through the whole process. Just being a leader and coaching the guys up. 
Do you feel you are more of a leader on offense or defense? 
I feel I am just a leader in general, whether that is on the offensive or defensive end. I am always trying to encourage my guys and pump them up. 
Is there anything in particular you have been working on this summer? 
I worked on every skill, dribbling, passing, shooting… I am just ready to display everything this season. 
Who's your favorite artist/rapper? 
My favorite artist right now is Lil Baby. 
Who do you think would win if we played one v one to 12? 
I think that one is going to have to be 12-0. 
Maleeck Harden-Hayes #3 G 
You played three seasons at North Dakota State (NDSU), how was your experience there? 
Playing at NDSU really helped me grow as a player through the ups and downs, the challenges. Battling with those guys and bringing what I have learned from North Dakota State has helped me tremendously in my transition to being here. 
Last year in your first year with the team, you averaged roughly 10 points and four rebounds a game, on 48.5/38/90? Sneakily close to 50/40/90… Do you think you can get there this year? Were you aware of this? 
I am hoping to get there. I was aware, but I try not to pay attention to my statistics. Going out on the court, I just feel as confident as possible after working on my game this summer and working towards being an efficient scorer.  
You have an effective free throw game; do you have any keys or tips to that?  
I want to shout out Coach [Takayo] Siddle, we have to make 100 free throws every day before the season begins. Just keying in on that and making sure you are focused. 
How do you feel about the team as a whole, including the six incoming players? 
I think we all have improved a tremendous amount. I would say Donovan, he has grown in many ways from a leadership standpoint. He is a guy that we can fall back onto when things get rough, his leadership and poise really solidify the offense. 
What is your favorite movie? 
Not a lot of people know it, it's called Welcome Home Roscoe Jenkins. You have to watch it, it is a real funny one. It has Martin Lawrence in it. 
What would happen if we played one v one to 12? 
12-0 if it is make it take it, if it is not make it take it I might let you get one bucket, to make you feel good. 
Ahmard Harvey #25 F (Forward) 
You have played against UNCW in the past. How would you describe the environment? 
 I have actually played at UNCW two times, the environment was wild. The student section was very hype, and it was basically sold out. From the jump, I felt like this was a good environment to play in. 
With last years starting five men leaving the program, how do you feel about helping fill that gap in the rotation? 
Rebounding is something that I do, and I blocked a lot of shots last year, so I am willing to fill that role. Just doing the best I can, getting better every day and playing hard and aggressive.  
How are you enjoying the Wilmington area so far? 
I love it, you know I am from the Bahamas. Living by the beach again is amazing for my last year, and I am just very excited for the season. 
What would happen if we played one v one to 12? 
Me, I'm going with me, every time. If we're playing till 12, it'd be like 12-3.  
Shemar Rathan-Mayes #22 G 
You are from Canada, correct? How does the basketball scene there compare to the American basketball scene? 
I have been playing in Canada my whole life, with four years of high school in Canada. We are up and coming, a lot of people have slept on us. I think having a third place finish at the FIBA World Cup this year put the world on notice. The biggest difference I would say is the physicality of the game, but once you are here for a while you get used to that. 
How was your experience in the Bio-Steel All-Canadian game? 
The year I got selected was actually the COVID year, so the selection process happened and everything, but we didn't get to play the game.  
In three years at Youngstown State University (YSU), you appeared in 78 games and started 67. How will that experience aid this team this year? 
Being a player that started, I have been through all phases of the game. I've been a starter, I have been a guy that came off the bench and gave good minutes. Then, I was injured and was in a position where I had to stay on the bench and just observe from there. So, I think just being somebody that is experienced in all parts of the game, I will be able to bring that to the guys, to the guys that get heavy minutes or the guys that get spot minutes… Or to the few guys that will not get any minutes at all. So, I just want to bring my experience of playing at all three levels and be a vocal leader in certain aspects. 
What have you been working on this summer? 
The biggest thing I have been working on I think would be communication, coming here there is a heavy emphasis on that. If you do not talk, you are not going to touch the court. So, just being consistent with it, even when I am tired. Being a point guard, you have to be able to talk and lead guys, put guys in their spots… and help guys in their defensive rotations. Knowing my spot and what I have to do, and then knowing what everybody has to do so I can lead with my voice. 
Who is your favorite basketball player? 
All Time: Kobe Bryant 
Current: Damian Lillard 
Who would win if we played  one v one to 12? 
No disrespect, but 12-0. 
UNCW Women's Basketball Press Conference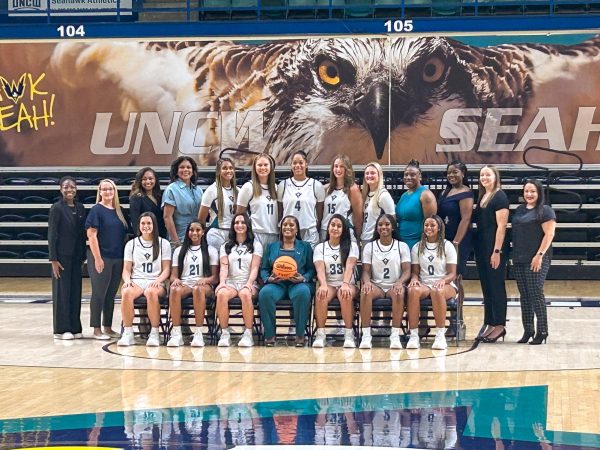 Head Coach Nicole Woods 
As a former collegiate and professional player, how do you feel that you can connect and help guide your team? 
There are some things you just don't know unless you played. I think being a former player and now coach, you're able to relate to where they are. I am a little bit older than they are, but I always say your past experiences can help with your future. I always try to put my players first in everything we do, and I always think about what I would have thought when I was in their shoes. I hope that it makes me a better coach because of the fact that I played, not to say you have to have played to be the best coach. I think it's an asset for me though.  
You worked at Stetson University…You were responsible for recruiting some of the best players in the university's history, with four players being named to the Atlantic Sun Conference (ASUN) All-Decade team, including the programs leading scorer Brianti Saunders Can you walk me through your experience there [and how that affects your time here at UNCW]? 
That was my first coaching job. I was a graduate assistant before that and that was my first full-time job. Lynn Bria was my head coach, and she is the best recruiter I know. She taught me everything she knew, and just let me go and do my thing. It was extremely difficult because at the time I was replacing the all-time winningest class in Stetson's history, so no pressure, right? For me, the biggest thing is you have to recruit players that fit who you are as a coach. I knew the types of players that my head coach needed to coach, and I knew the ones that are under the radar but were really good players. Bret McCormick, he is an evaluator, he calls me "Backwoods"…Because he would say I would go into the backwoods to find them. And I did. I found Brianti Saunders in Hilliard, Fla. Amber Porter was another player there, she was up in Va. You just have to do your job and find players. You have to recruit them, and their families. I like to say relationships are my super power. Building relationships with those young ladies got them there, which ended up translating into four All-Decade players, I must have just got lucky. 
How do you feel about this UNCW team going into this season? 
I am super excited. I allowed this group to make the mantra for this year, and they chose #RiseAbove. You'll see us do #RiseAbove because they have been through a lot. If I had to pick one word to describe them, I would say 'hungry'. They are hungry, nobody expects anything of them. They are going to pick us last in the conference, and nobody is going to expect us to do anything, but the people in the locker room. We believe in ourselves as a team. We had a bunch of injuries last year but now we have people healthy… as well as four new faces to the program. We are really excited, the young ladies have done everything I have asked them to do from day one. We are going to play hard, we are going to compete, and we are going to rebound. When you do those three things you always have a chance to be successful and win the basketball game. That is what we are going to focus on, as well as our core values of the program.  
How does having seniors Lexi Jackson, Evan Miller and Britany Range help lead the younger team? 
They have been great. As you said, they have been here at UNCW and it has been rough for them. They want to win. They do not want to go out on the note that they started with... I have started what I call my leadership council, where I am teaching them how to lead. It is not always about the 'rah–rah.' Sometimes it i's the things behind the scenes, so just working with them on how to lead and be effective leaders for this team. Trying to lead by example is the biggest thing. 
With all of the young players on this roster, is there anybody who is not the biggest name right now that we need to watch out for? 
Taylor Henderson was here last year, and she was one of the injuries that happened. She will be a redshirt freshman this season. Kylah Silver is a freshman as well. Those two players have looked really good in preseason, I think they will definitely make some noise before play starts. Corrie McLaughlin is another one. We have a host of players that can play and have played at a high level. It's just a matter of getting everybody healthy, getting everybody all on one accord and be ready to go by the time Nov. 7 comes. 
What does coaching at UNCW mean to you? 
First of all, I never thought I would be a head coach. So, the fact that I am here is definitely a blessing for me. In terms of UNCW specifically, you know I think this place is special. I was at UNCC for the last 10 years, from the area, and thought I would retire there. When Michael Oblinger and Tiffany Tucker approached me about this opportunity, I knew it was special. What I want to gain from this, is putting Wilmington on the map on the women's side. Everybody knows about the men's basketball program. I want to be able to fill the stands for my players, to be able to have some people to play in front of. I want people to know that when we walk in the gym, we mean business. Because they deserve it, they deserve to have people to come out and watch them play. 
Who is your favorite superhero? 
Wonder Woman, of course. Girls rule the world.  
If you and I played one v one to 12, what would the score be? 
I am so competitive I would not play, because I am coming off of an Achilles injury, and I would not want to hurt myself. If I was healthy though, you would probably get skunked. 12-0. 
Alexis Jackson #4 C (Center)  
You averaged about seven points and seven rebounds and almost two blocks last season, how do you think as a rim protector and leader on the interior, you can take a step forward this season? 
For me, it is about my mentality. I am going into this year trying to make a name for myself, I want to be that player on the floor that you can go to when you need a basket. I am going to be more aggressive to score, and more aggressive on defense. I am going to give it my all. 
What's your signature move when the team looks to you to score? 
My left-handed hook shot. 
How has the team looked over summer? What is your impression? 
The difference since last year is our mentality as a team. Everybody has come in with a winning mentality. We have been working really hard all summer. Our work ethic has changed and improved significantly. 
Who is your favorite artist? 
I would have to say SZA.  
Who would win if we played one v one to 12? 
I would win but I think it would be like 12-7.
Evan Miller #22 G
As one of the older players, how do you help lead your team?  
I would say leading on the court I try to be vocal. Off the court, I try to help out anyone with anything they need since we have a bunch of new people. But mostly, on the court I just try to be vocal and communicate.  
How do you feel about the team coming into this season? 
We all clicked super well over the summer when we first got here. Team chemistry has been really good, we hang out all the time. I think everyone is eager and excited, with the new coaching staff feeling almost like a fresh slate.  
How does this year compare to some of your previous seasons? 
The last couple years we have lost a lot, so I think we are eager to prove ourselves. A lot of people think we aren't going to do so well this season, so we are just doing our best to ignore stuff like that and prove people wrong.   
Who has surprised you with their improvement over the summer? 
I would say Henderson, she was hurt last year with a knee injury. She had to go to rehab for her knee and everything, but she has been killing it. Getting buckets. 
What's your favorite movie? 
I am going to name three because that is a tough one: Interstellar, Inception, and The Truman Show.  
If we played one v one to 12, what do you think the score would be? 
I would win, 12-4.  
Sammy Ackles #15 F
You played in one exhibition game last year, recording 15 points and seven rebounds before injuring your knee in the final minutes. Can you walk me through that? 
The injury was very rough and devastating. It is not at all how I pictured my freshmen year going. Coach Martin last season had very high hopes for my role on the team. Coming back from that has been a struggle, I just got fully cleared about a month ago. I am just looking forward to getting my feet back under me and just getting into the games at full speed. 
Can you discuss some of that recovery process? 
I was on crutches for seven to eight weeks, so during that time I did a lot of bike conditioning. After I got off the crutches, we focused on getting my quad back to the size that it needed to be to match the strength of my other leg. After that, we progressed back into running. I had to basically relearn how to walk, which was not a fun process. That probably took me about two weeks on its own.  
What are some goals you have coming into this year? 
My goal for this season is to average a double double, and to make an All-Conference team. For the team, having a 15 plus win season as well as winning a first round tournament game.  
Who is your favorite artist? 
My favorite artist is Taylor Swift.
Who would win if we played one v one to 12? 
I would win, but I will give you the benefit of the doubt; It would be 12-7.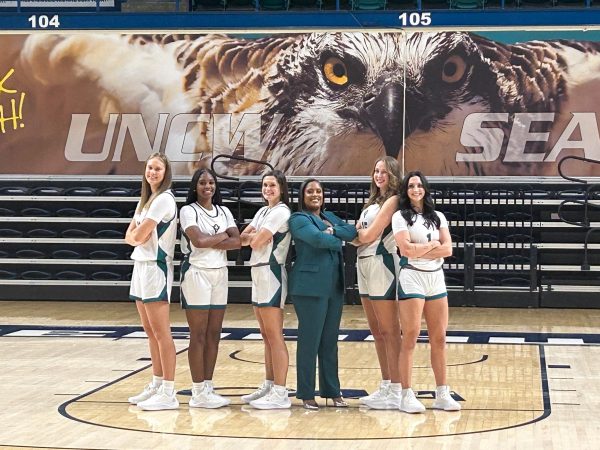 Games for these teams will begin soon. Click here for the women's team  schedule and click here for the men's team schedule.