Mayhem on Ice: UNCW's hockey fans are unlike any other
UNCW Hockey knows it would not be the same without its fans.
The Seahawks have been known to draw impressive crowds on the weekends at the Wilmington Ice House. With attendance numbers reaching upwards of 1,000 individuals, UNCW Hockey has a reputation for being the hottest ticket in town.
"Words cannot express how thankful we are as a team to have such a die-hard fan base," senior forward Sam Koppen said. "I black out every time I take the ice. It's an adrenaline rush and an amazing feeling knowing the amount of support we get."
Not only is the gameday atmosphere unmatched, but the Seahawks have been dominant on the ice in recent years. After another hot start in 2021, UNCW (7-3-1) finds itself near the top of the Atlantic Coast Collegiate Hockey League (ACCHL) standings.
UNCW has a talented roster, but even the players have recognized the fan's impact on the team's record this season. No other team in the league receives the same level of support from its fanbase and the Hawks are reaping the benefits of this advantage.
"The fans play a huge role in games that are close in score," senior defenseman Logan Stewart said. "When they get loud, they feed our motivation and energy. The opposing teams have most likely never seen a crowd like ours before…it makes everything we do a thousand times better." 
At a school that lacks a football team and the gameday experience it provides, ice hockey seems to be the missing puzzle piece Seahawk fans crave around this time of year.
Although it's not a noon kickoff every Saturday during the fall semester, hockey fans at UNCW seemed satisfied with the action that is taking place on the ice every weekend.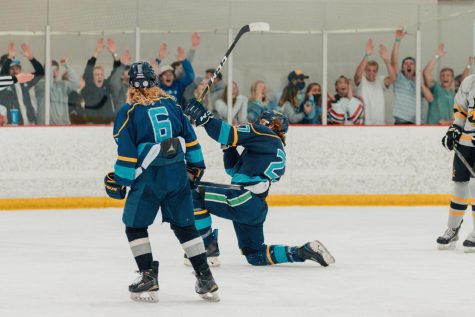 "I personally believe people are so supportive of UNCW Hockey because there are no other contact sports at the school," Koppen said. "There's something about people skating at 15 mph, throwing hits, and getting into altercations that really tends to draw people's attention."
Following the 2020 season, a year that saw no Seahawk hockey due to COVID-19, coaches and players share the fans' excitement for the current 2021 campaign.
For those who have yet to attend a UNCW hockey game, it's an experience unlike any other. Take a sweatshirt, warm up your vocals, and get ready to be surrounded by one of the largest crowds you will find at a UNCW athletic event.
"It's a party," Stewart said. "The music is loud, and the fans are louder…coming to UNCW and seeing all of the support around it is really special."
In addition to building a close relationship with its fanbase, UNCW hockey players have built a strong bond with each other. After hiring Rich Brouwer as the head coach in 2019, the Seahawks have adopted a new culture and winning mentality.
"Ever since we brought in Coach Brouwer, he has preached 'Change the Culture'," Koppen said. "This has been something that has led us to acquire a lot of talent and has helped us be successful this season."
Every single player and coach involved with UNCW Hockey cherishes the support they receive from fans. The fanbase does more than help the team on the scoreboard; they add a personal touch to the season and seem to build relationships with each other throughout the year.
"We love every single one of [the fans]," Stewart said. "Since we are a club, our presence is more personal…without [the fans], we are just another club." 
The Seahawks will face off against East Carolina in its next home match on Oct. 29 at 10 p.m. Tickets will be sold at the door prior to the game.