China has a vice grip on American entertainment. It is a bad look.
Darius Melton, Opinion Editor
October 19, 2019
China has been in international headlines for months now, as the riots in Hong Kong have made waves around the world. Those waves are now clearly present in American entertainment, and the implications are worrisome, to say the least.
The NBA has been at the forefront of Chinese controversy in recent weeks, as on Oct. 4, 2019, Daryl Morey, general manager for the Houston Rockets, tweeted out the words "Fight for freedom. Stand with Hong Kong."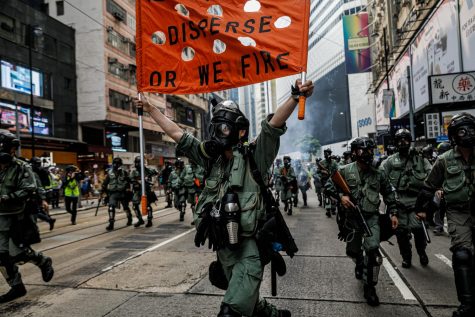 This simple tweet virtually set the entire NBA on fire, as athletes and behind-the-scenes businessmen alike scrambled to distance themselves from Morey's declaration. Morey himself quickly deleted the tweet and sent out a series of apologies, but it was too late to undo what was done.
China was furious.
NBA G League games scheduled to take place in China later in October were canceled. Nike pulled all Houston Rockets merchandise from their Chinese webstore. ESPN insider Adrian Wojnarowski's Chinese basketball show, Woj in the House, was canceled by Chinese sports-broadcaster Tencent after he liked Morey's original tweet. Houston Rockets star James Harden issued a hasty apology in light of their general manager's tweet, saying, "We love China… We love everything they're about."
Even when the NBA put out a press release of their own, siding with China while giving half-hearted support for free speech, Chinese blog site Weibo altered the apology via translation to say that the NBA was "extremely disappointed" by Morey's "inappropriate" comment.
This would not be the only time that China altered information on the internet to keep its people in line. Earlier this month, Comedy Central series South Park was banned in China after an episode in which Randy Marsh was sent to a reeducation camp for selling drugs in China.
Feeling the episode poorly represented China, the government retaliated by not only banning South Park episodes and clips, but also scrubbing the internet of any discussion of the show. South Park now finds itself in the same boat as Winnie the Pooh, a property also banned in China in 2017 after the spread of an internet meme in which Chinese citizens said that the titular bear resembled president Xi Jinping.
Even those not living in China caught fire for associating themselves with South Park, as German-Russian music producer Zedd was "permanently banned" from China after liking a tweet celebrating the show's 300th episode—one which had nothing to do with China.
The idea that someone can be punished and have already-scheduled shows canceled for liking a tweet is ridiculous. Between Zedd, Daryl Morey and the entire saga of competitive Hearthstone player "Blitzchung," it seems that Lebron James had a point when he said that "we do have freedom of speech, but there can be a lot of negative that comes with that too"—even though James, unfortunately, said this in an attempt to denounce Morey's actions.
It is there with Lebron James' statement that we get to the real problem on our end: America is not standing up for democracy. In fact, it appears most of the faces of this country are either keeping quiet or scrambling to appease the Chinese government.
Donny Donadio, a UNC Wilmington senior who was born in Shantou, a city in the Guangdong province of China, spoke with The Seahawk about what may come next after this current controversy.
"What I think is going to evolve from this isn't that international companies are going to disengage from China. I just think that these companies are going to try to get better at working in China," Donadio said.
Speaking of reeducation camps in the South Park episode, Donadio noted that they are still in use to this day in the Xinjiang territory to control the Muslim Uyghur population. Donadio also drew parallels between Hong Kong and Tibet, a country where people still set themselves on fire to protest Chinese rule.
"…China has gotten so powerful economically that China is in this position where it's like, 'Oh, you don't like the way we run Tibet? Well, do you still want to do business with us?' That shuts a lot of countries up," Donadio said.
Whenever the choice is between money and human rights, America—despite the constant pride and insistence that we are pro-freedom—will often opt for the money route. China is huge for America's economy, giving their country not only a reprieve from the critical eye, but also the service of people like Lebron James and Houston Rockets owner Tilman Fertitta who will defend them when China does something that goes against the very values of our nation.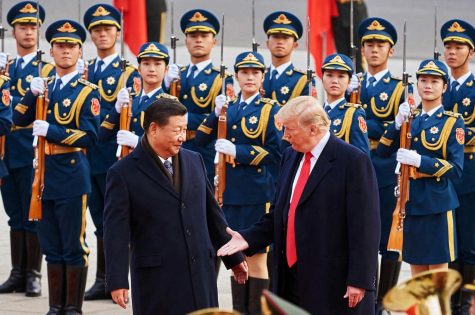 Hong Kong is fighting to keep its autonomy and its democracy, and if they are looking to function well in that system, they are going to be looking at the Western world as an example—hence why their signs are written in English.
They are hoping to be seen and be helped, but when the loudest voices in America side with China, it has to be demotivating. A victory for Hong Kong is a victory for democracy, and is that not what America wants?
I am fully aware that there would be huge economic ramifications if America were to dump China, which is why I cannot fully endorse it until I know someone with power has a plan—but a plan is worth looking into.
We need to do a value check as a nation, because regardless of money, allowing Hong Kong to lose this fight for democracy is absolutely un-American.