Measuring the 'Icehawk' defense
Yv Scarlett Maciel, Contributing Writer
September 30, 2019
Last week, UNC Wilmington (1-1-2) had a big overtime win against Virginia Tech (2-1), but then took a crushing blow the very next day.  
During Saturday's game, the 'Icehawks' were pushed around and allowed four pucks into the net during the first 2 periods. With a matchup against Elon coming up, UNCW needs to focus on physicality as they prepare for the 3-0 Phoenix.  
Elon's roster is made up of 36 players, 15 of which being defensemen. With that in mind, UNCW needs to focus on beating opponents physically. 
Behind the Glass: Practice with the 'Icehawks' 
A team can never have too much defense. More defensemen than forwards is not necessarily a bad thing. Going down UNCW's roster, it is evident that the team contains a disproportionate ratio of defensemen to wings. Having only five designated defensemen on a team of 22, creates for less physicality.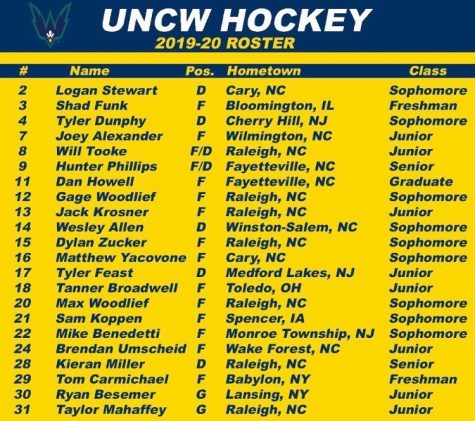 During their 10 p.m. practices, junior Will Tooke and sophomore Matthew Yacovone spoke of what the coaches are focused on to better prepare their team defensively.   
"We have a lot of new guys, so we've been working on defensive zone coverage to make sure everyone's on the same page," Tooke said. "We've also been focusing a lot on regroups and moving the puck more efficiently." 
"We're particularly focusing more on playing the body to get big hits," Yacovone said. "We're also making sure our penalty kill is fine-tuned so our goalie gets all the help he can get." 
To further the 'Icehawk' defense, head coach Rich Brouwer moved former wing Hunter Phillips to defense. This adjustment has appeared to be a positive transition for the team. 
"Moving Phillips to defense has been one of the best things we've done for our team defensively because he gives the team the body checks that we need," said Yacovone.  
Defense, D Fence and D# 
It is easy to see that the more effective the defense of a team, the more effective the offense — they go hand-in-hand. However, from previous games, the 'Icehawk' defense has not effectively pushed down opponents, which allows for more breakaways and shots from the other teams.  
Positively, having more forwards on your team allows for more shots on a goal, which was evident from the over 20 combined shots from Friday and Saturday's games. But, players firing shots can only do so much when large opponents come along and plow them down.    
Shots by the 'Icehawks' were consistently rebounded by Virginia Tech goalie Collin Couture each game. If UNCW had gotten someone in front of Couture, the offense could have taken the rebounded puck and scored. Blocking the vision of the goalie is an annoying but highly effective tactic.  
Obviously, defense is not the most crucial factor for a team, but when you have players slamming people just like retired New Jersey Devils player Scott Stevens used to do, you start winning games. Defense makes a hockey team better.   
With defense being a strong point at practice, it will be interesting to see if the 'Icehawks' are able to play more physically as they are tested against Elon on Friday and Saturday.