Seahawks close out Hampton Inns Classic with win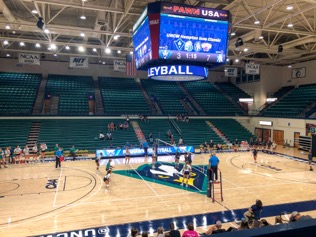 Erin Howard, Contributing Writer
September 22, 2019
The Seahawks closed out the annual UNCW Hampton Inns Classic on Saturday with a dominant 3-0 win against North Carolina A&T. 
The Seahawks got off to a slow start coming off their loss to Western Carolina earlier in the day. They trailed for much of the first set but were able to turn things around, winning 26-24. 
The Aggies were forced to call a time out early in the second set, when the Seahawks jumped out with a quick 7-3 lead. The Seahawks continued their strong play for the remainder of the set, winning 25-17.  
The third set was all Seahawks once again, they never trailed and picked up the sweep with an impressive 25-15 win. 
Junior outside hitter, Jaime Thomas, led the Seahawks with a boastful 13 kills and 7 digs. 
With this win, the Seahawks closed out the Hampton Inns Classic 2-1 and will now look to build off this momentum as they enter conference play.