Barnes and the Beard: What it means to bleed teal
Picture this.
You're spending your Friday night in April at Brooks Field. UNC Wilmington is up a few runs ahead of whatever CAA opponent traveled to the Port City midway through the game. The inning ends and the Harlem Shake blasts on the speakers around the diamond.
Enter the Beard.
Michael Barnes has become as much a staple at Seahawk athletic events as Sammy C. Hawk or the color teal. He's been there since he came to Wilmington in 2003.
Focus shift
Life has a funny way of giving you something when you asked for something else. Lessons are needed to be taught and sometimes the best thing that can happen to you is a failure.
Barnes was first attracted to UNCW because of their marine biology program. It had nothing to with how effective he could enter the subconscious of Seahawk opponents. In fact, Barnes wasn't even a super fan at age 18.
He grew up as a self-described "nerd" in New York. Barnes was the kid in elementary school who did his homework on the bus. As his friends began playing sports in middle school, he became more interested in them.
After he was accepted into UNCW during his senior year of high school, Barnes showed no interest when his dentist pointed out the men's basketball team was in the process of upsetting Southern California in the 2002 NCAA tournament.
"It wasn't until I got to UNCW and got sucked into the sports atmosphere here," said Barnes."
Nowadays you can find the man people call "Seahawk Jesus" at most home games and as many road games as his schedule allows. That's quite a turnaround that has a lot to do with who he's met along the way to pair with his growing spot in Seahawk lore.
A brotherhood
Batman needs Robin. Barnes needs Shriner.
"Come on man! Robin? I feel like we are more founding members of the justice league," says Ian Shriner when told of this piece. "He's Superman because he's always there while I'm more of a part-time Batman."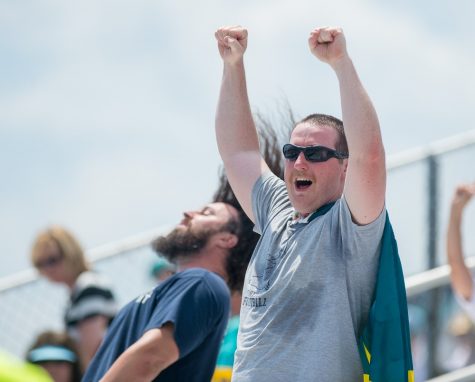 Barnes and Shriner met at UNCW's Honors House during their freshman year. Both being baseball fans, they soon made the trek to Brooks Field where the crowd was too quiet for their comfort.
There is a difference in watching a game and participating in the game. To a normal person, a baseball game can be boring, slow in its pace and lacks the nonstop action of sports like basketball, football, and soccer.
To liven things up, they began bringing costumes and props to better engage the fans. If fans wouldn't be energetic about the games, they would clap for two 20-somethings that were the perfect blend of crazy and passionate.
From a crown for days when former Seahawk pitcher Alex Royalty would pitch to the rally flag that is raced after every Seahawk run, Barnes makes sure the support is felt down the first base line of Brooks Field.
"Most of the props are a spur of the moment," said Barnes. "We pride ourselves on not being too crude. We pride ourselves on not being PG-13 and keeping things humorous."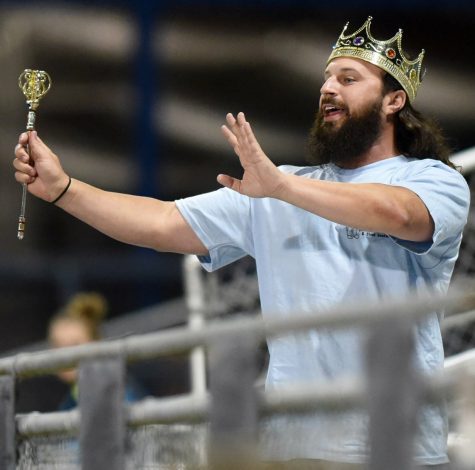 Even as Shriner moved away a few years ago due to marriage and fatherhood, he's adopted other means of keeping up with his UNCW friend and sports teams. In spirit, he's dedicated a whole room of his house to a teal-clad man cave with a few traces of Braves memorabilia.
"It's definitely easier if you have people with you. You can build off each other," Barnes said. "When it's just you in the stands it can be tough to match that same level."
Ups and downs
Since Barnes' graduation in 2008, UNCW has experienced both the highs and lows of being a mid-major basketball program. That reality is reflected in fandom.
As UNCW suffered from not renewing Brad Brownell's contract after two NCAA bids fans were forced to waddle through the Benny Moss and Buzz Peterson eras where the Seahawks' failed to surpass 11 wins in six of eight years.
If anything, fandom shifts from being entertainment to a necessity. From coaching changes and rebuilds to championships and awards, Barnes strives to enjoy the teal beyond wins and losses.
"UNCW does a pretty good job of promoting the athletic events," said Barnes. "The students here are more prone to go to sporting events than other schools in the conference."
Even as the ebbs and flow of life unfold and Barnes grew from an 18-year-old, clean-shaved freshman to some long-haired, bearded adult places like Trask Coliseum and Brooks Field have remained refugee havens for everyone who just needs to get away from whatever battles they silently walk through.
"Not a lot of things go wrong at a UNCW event even if you lose by 20 points.," said Barnes. "It's a good time. There's always someone you know there. As long as I've been going, I can sit down next to a stranger and start a conversation."
Beat and the Beard
The nature of super fandom demands attention. Opposing players, Seahawk fans, and students have all noticed the crowns and various skits put on by the Beard.
"Some people are surprised there's more to me than just the Harlem Shake," Barnes said.
As the years went on, Barnes caught the eye of sportswriters like Brant Wilkerson-New and Alex Riley. When Riley took over the UNCW beat for the Wilmington StarNews, he gained access to players and coaches that fans can only dream of.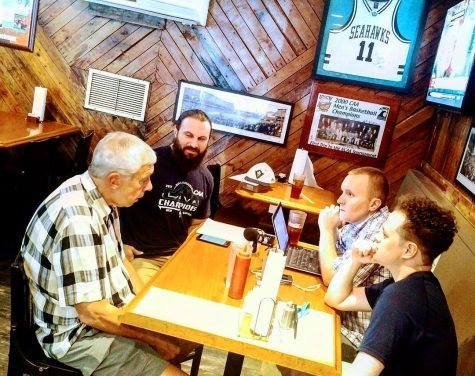 Riley and Barnes soon teamed up for the first podcast dedicated to UNCW sports. The idea was simple: Take the best of professional sports coverage with the greater power of passionate fandom.
"What started off as two guys…talking UNCW sports became a weekly podcast totally by accident. I wasn't sure when we bandied the idea about how it would go but, to his credit, Michael came prepared every week with tons of notes and analysis, often more than me," said Riley in a text message. "The conversation became something I genuinely looked forward to every week (and thoroughly miss)."
The Beat and the Beard podcast ran for 96 episodes and featured guests like UNCW men's basketball coach C.B. McGrath, Seahawk legends Brett Blizzard and Jerry Wainwright, and numerous other prominent figures from the Seahawk sports of today and yesteryear.
It came to an end when Riley switched career industries, but Barnes still contributes to media through his work with the Seahawk Digital Network and recently began his second foray into the podcast business.
Steady Seahawk
The only thing that's stood between Barnes and his Seahawks over the years is the same authority that's caused anyone who drives on campus to suddenly slow to the legal speed limit: UNCW Police.
Barnes was briefly banned from campus after he graduated due to attempted solicitation of alcohol that translates to "Seahawk Beer Pong." He did reach an agreement with UNCW Police that allowed him to attend baseball games provided he notified the police when he was on and leaving campus.
Eventually, the ban was fully rescinded (with the help of Shriner vouching for his friend) and Barnes was free to come and go as he liked- except he's come a lot more than he's gone. He attended all 62 baseball games last season including trips to Arizona State and both CAA and NCAA tournament weekends.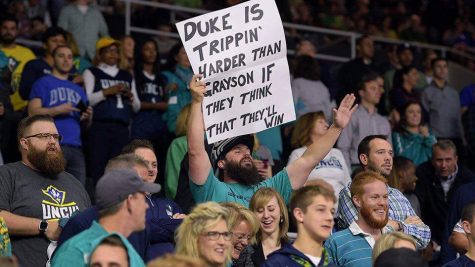 This season you could've found him in the stands at Kennesaw State and Memphis when the Seahawks played away series earlier this year. His games-attended streak came to a halt after a few years when he couldn't make the trip to Towson in late March.
Whether his Seahawks are in the CAA hunt or struggling like men's basketball has the past two seasons, Barnes' commitment has never wavered. It's not hard to see why.
Bleeding teal isn't some fancy birthright, and although he can talk sports with the best of him, he's one of the most personable people in the Port City. Barnes exemplifies that people don't have to take everything in life seriously; you just have to be serious about it.
Whether you define serious as cocktails and a blazer or a beer and jersey is up to the individual. Just don't forget to invite Barnes over, he'll gladly engage in both.
Sports Editor Brandon Sans can be found on Twitter @bsans10. Any tips or suggestions should be forwarded via email to bms8544@uncw.edu.