UNCW Sailing wins first regatta in school history
Travis Stoker, Photo Editor
March 3, 2019
The UNCW Sailing Team earned a place in the history books Saturday when they took home a first-place finish at a South Carolina regatta. The regatta was held at Columbia Sailing Club and was hosted by the University of South Carolina. UNCW Sailing has competed in collegiate regattas for several decades and has had their share of top finishes in that time, but a first-place victory had yet to be achieved until this weekend.
The team had a group of experienced seniors at the helm in Alex Jones, Graham Shivers, James Ahern and Harley Lowery. Allie Howard was the only junior to sail in the event. The group had to deal with variable, light winds throughout the day. These conditions are normally unfavorable for sailing, but the Seahawks were able to adapt to the situation and come out on top.
The competition included a stacked field of well known south-eastern schools.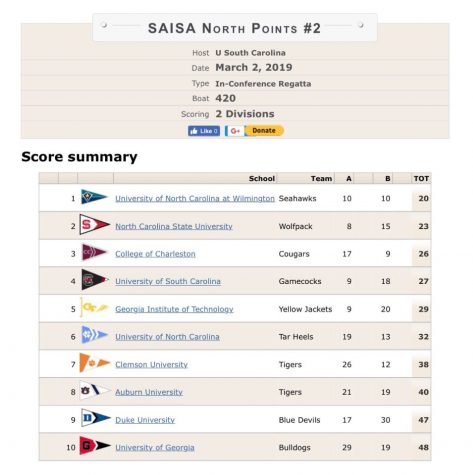 The contest stayed close throughout the day, with both NC State, College of Charleston and USC  constantly challenging UNCW's lead. In the end, though, UNCW held on and came out on top of second-place NC State by three points.