Sans: Sharpe's return gives Seahawks extra weapon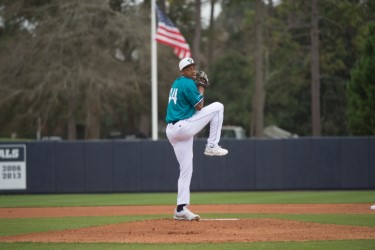 Zarion Sharpe is back.
The junior pitcher will make his season debut this Saturday when UNC Wilmington (4-5) plays the second of three weekend games against Valparaiso (1-4).
After two relief appearances to begin his freshman year, Sharpe was inserted into the rotation by coach Mark Scalf who was searching for stability after staff ace Alex Royalty.
Sharpe responded with a standout year where he pitched the Seahawk's lone complete game of the 2017 season and was named to the 2017 CAA-All Rookie team after winning each of his final six decisions.
The duo of the sophomore Royalty and freshman Sharpe was sensational. The Seahawks won 20 of the 26 games started by the duo and each finished in the top-20 of the Colonial Athletic Association in batting average against. Unfortunately, the Seahawks never got to truly see their encore act.
Sharpe's sophomore campaign was cut short after five starts due to a shoulder injury that he's rehabbed the entire offseason. At last month's Media Day, Sharpe acknowledged he was close, but wouldn't be ready by the start of the season.
Instead, the Seahawks have started five different pitchers over the first two weeks of the season. Apart from getting a talent of Sharpe's caliber back, Scalf and pitching coach Matt Myers can put pitchers in roles they're more comfortable in.
Take senior Justin Walke as an example. He appeared exclusively in relief last year to the tune of a 3.32 ERA across 43.1 innings. Walke appeared in 21 games which are the most returning appearances in the Seahawk bullpen after Luke Gesell transitioned to the rotation.
Short on starters after a four-game opening weekend, Scalf turned to Walke who made his first collegiate start during the midweek game against then-no. 19 Coastal Carolina two weeks ago and couldn't get out of the inning, leaving with a 5-0 deficit the Seahawks didn't come back from.
Fast forward to this week and Sharpe's availability allowed Scalf to hand the ball to sophomore Landen Roupp, who is coming off his own All-Rookie year, during a midweek game against no. 4 North Carolina. Now Scalf can sort through options like Gesell, Sharpe, Roupp, Gage Herring and Brody Lawson instead of taxing a bullpen for a midweek game.
Even though he'll be limited to a couple of innings against Valpo as he continues to regain arm strength, Sharpe is one of the most important pieces to the puzzle in the Seahawk's quest to not only repeat as CAA champions but get Scalf to a Super Regional in his final season.
All that is down-the-road-stuff that'll be sorted out in a couple of months. For now, sit back and enjoy the end of a long rehab process and the return of one Zarion Sharpe.
Sports Editor Brandon Sans can be found on Twitter @bsans10. Any tips or suggestions should be forwarded via email to bms8544@uncw.edu.