Badmus: Parker's mark on UNCW felt in lone season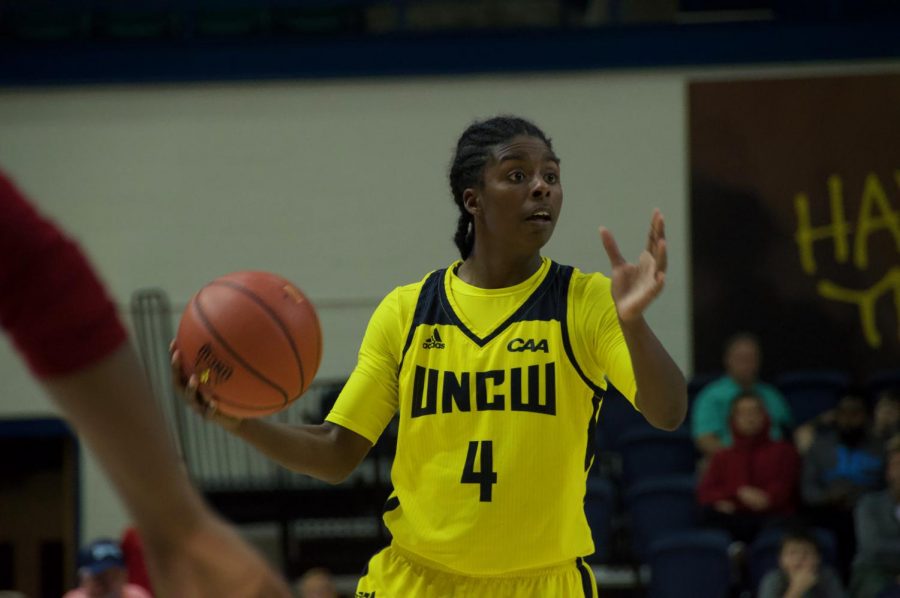 Lanre Badmus, Staff Writer
February 23, 2019
Shrita Parker will end her collegiate career having played only one season at UNC Wilmington, but the consensus around the women's basketball program is that her mark will be felt in the halls of Trask Coliseum for years to come.
The redshirt senior guard will play the final home game of her collegiate career on Sunday against Delaware. Parker had only one focus when asked about this weekend in an interview with The Seahawk.
"Just winning," said Parker. "Basically just winning and having fun, giving the crowd their last impression of me."
Key addition
Parker has been a key component of the turnaround of the Seahawks' fortunes in coach Karen Barefoot's second season at the helm. Parker is the team's leading scorer with 17 points-per-game and also leads the team in assists per game (3.4), free-throw percentage (78.3 percent), and steals per game (2.0).
Parker was also named the USBWA National Player of the Week last month, the first Seahawk to ever receive such a national honor. Most importantly, she has also been the catalyst for UNCW's current 15-10 record, along with an 8-6 conference record that is good enough for fourth in the CAA.
Barefoot says that Parker's impact on the team began before she started playing for the team this season.
"It actually started last year, her sitting out and being a leader and practicing so hard," said Barefoot. "I think she's really helped build this program. This year, her getting on the floor, of course, there's nothing she can't do. She's got a tremendous amount of confidence and she's helped us in so many ways."
Barefoot's relationship with Parker actually stems back to when Barefoot was a coach at Old Dominion and she attempted to recruit Parker straight out of high school before she chose Rutgers.
"It came down to Old Dominion and Rutgers and she chose Rutgers. I just stayed in contact with her," Barefoot said. "Then when I got the job here, we were talking and she got released from Rutgers, and she wanted to come and help build this program."
Best friends off the court
Of all her teammates, however, the one she feels closest to is Ashli Jeune. Both players left Rutgers to come to Wilmington together, and Parker says her presence has been invaluable.
"When I was at Rutgers, me and Ashli came in together as the only two freshmen," Parker said. "We bonded tight and we were always together. I feed off her defense, she feeds off my energy. We play well together and enjoy each other's company. We're best friends, actually."
Barefoot acknowledges how close Parker and Jeune are, and said she saw it firsthand as soon as she first came down to the Port City.
"I hadn't even unloaded one box and they were right here visiting this school," Barefoot said with a laugh. "I didn't even know where my office was, and they were down here touring."
Title dreams
Sitting near the top of the CAA, the Seahawks have the chance to notch their first winning season since 2011-12 when they last qualified for the WNIT under Cynthia Cooper-Dyke. Placed only behind James Madison, Drexel and Towson, UNCW has the chance to earn a first-round bye in the conference tournament – something it has not done since it was the fifth seed back in 2015.
More than anything, UNCW is looking to win its first conference championship in program history. Parker is aware of the team's capabilities and knows what they need to do in order to achieve their ultimate goal.
"Stay healthy, continue to want to learn, stay confident and be competitive," said Parker.
Overall, Parker is happy that she came to UNCW. The Seahawks are happy that she arrived, too.