Scalf announces retirement following 2019 season
Scalf: "I will always cherish those relationships forged over the last 40 years."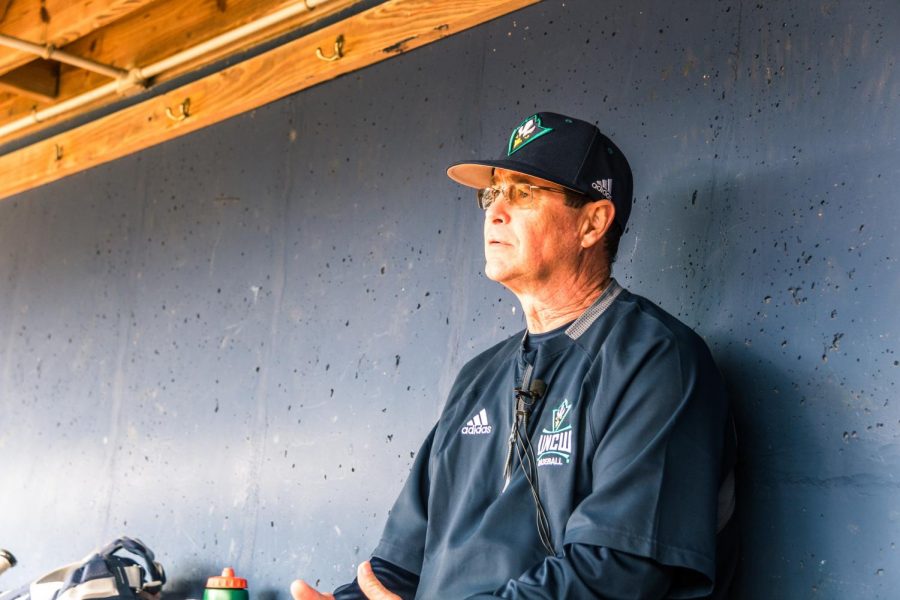 Brandon Sans, Sports Editor
February 13, 2019
Longtime UNC Wilmington baseball coach Mark Scalf will retire after the 2019 baseball season.
Scalf's 28th season in the Seahawk's dugout will be the last for the school's all-time leader in wins. His record sits at 909-676-1.
"It's been an honor to coach college baseball at my alma mater throughout my career,'" said Scalf in a statement. "I've been blessed to work with hundreds of quality young men who were motivated to be their best as students, athletes and members of the community."
The 1980 UNCW graduate began his coaching career with North Carolina in 1981 and helped the Tar Heels win two ACC championships before returning to the Seahawks in 1984 as an assistant under Bobby Guthrie.
Scalf succeeded Guthrie in June of 1991 and has guided the Seahawks to the NCAA tournament nine times including five CAA tournament titles in his tenure. The Seahawks have won 40-or-more games seven times under Scalf and have enjoyed 20 consecutive winning seasons.
Eighty-two players have played professionally since Scalf's arrival with seven players reaching the major leagues.
UNCW athletic director Jimmy Bass had the following to say on Scalf:
"It's been an honor to work with a college baseball legend the last seven years," said Bass. "He's had an unwavering commitment to the university and has made his program a vital part of its educational mission. We wish Mark, his wife Allyson and his entire family the best of luck as he moves onto the next phase of his life."
The Seahawks open the season Friday at Brook Fields against Saint Joseph's at 4 pm.
The Seahawk will have more on this story as it develops.
Sports Editor Brandon Sans can be found on Twitter @bsans10. Any tips or suggestions should be forwarded via email to [email protected]