UNCW comeback falls short against Towson
Toews: "It starts with defense."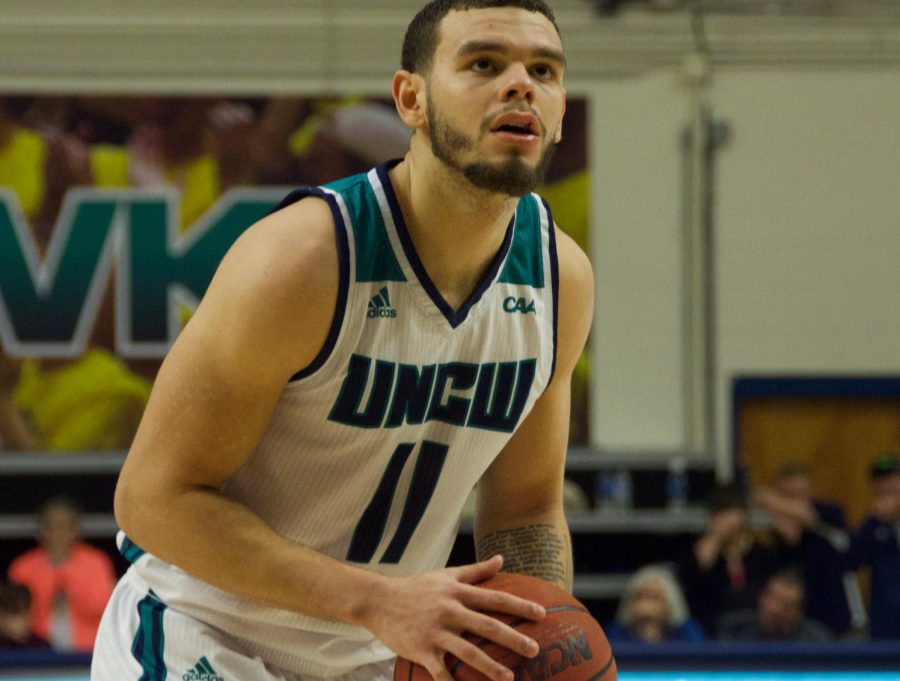 Brandon Sans, Sports Editor
February 1, 2019
UNC Wilmington opened Homecoming weekend with a 77-76 loss to Towson on Thursday night inside Trask Coliseum.
The Seahawks now can do no better than split its Colonial Athletic Association four-game home stand when it welcomes James Madison to Trask on Saturday for the Homecoming Game.
Three's Company 
Towson (8-15, 4-6 CAA)entered the game ranked ninth in the CAA shooting .326 percent from three-point range. The Tigers also ranked last in the league in made (44) and attempted (144) shots beyond the arc.
Their brand of basketball was more dependent on how physical it can be with its opponents, something the Seahawks (8-15, 4-6) did not see last week against two perimeter teams in William & Mary and Elon.
"We had to take away something. We were planning to live with the contested threes and just make sure they didn't get second chance shots because that's their biggest thing," freshman guard Kai Toews (16 points, 11 assists) said. "They just hit some tough shots tonight."
The Tigers shot 5-for-7 from three in the first half and did not miss any of its first four attempts on its way to building a 14-point lead. Once again, the Seahawks found themselves in a first-half deficit it needed to come back from.
It took much of the game for UNCW to earn its first lead, but it happened with 3:49 left in the game. There would be four lead changes after that until Toews' couldn't get a good look on a last-ditch effort as time expired.
 Blood Blizzard
When junior guard Jaylen Fornes exited late in the game due to a bloody lip, he was forced to wear a generic home jersey with historic significance–Brett Blizzard's retired number 11. Like Blizzard did throughout his career, Fornes stepped up in the waning moments of the game.
He hit three of his 19 points at the foul line after the jersey switch to give the Seahawks a lead with 12 seconds left. Even though he fouled out on the next play as Towson guard Brian Fobbs secured the Tiger victory at the line, Fornes' performance was welcomed by McGrath.
"He played with a lot of energy on the defensive end. When things aren't clicking offensively, you hit the boards," said coach C.B. McGrath. "It was good to see his activity, especially six rebounds."
Fornes played 25 minutes against Towson while he played a total of 27 minutes over the five previous games after McGrath pulled Fornes from the starting five for the second time this season. The last time he scored in double digits was the victory at Towson on Jan. 5.