Seahawks unable to pick up win over Panthers
Crisp and Tate suspended prior to the game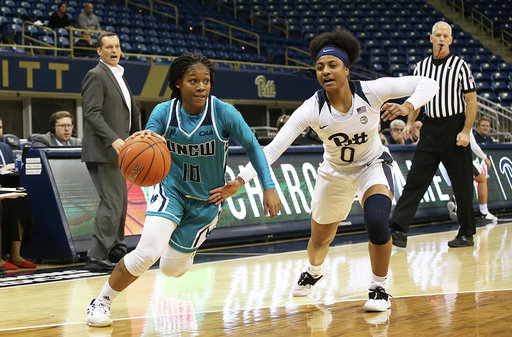 Hang on for a minute...we're trying to find some more stories you might like.
Almost forty years have passed since the UNC Wilmington women's basketball team beat a Power-5 opponent. The Seahawks escaped that Feb. 21, 1982 game against Duke with a 59-57 win.
Down two players, UNCW was unable to escape its latest attempt to end its Power-5 winless streak against Pittsburgh in a 60-56 loss in the Petersen Events Center on Tuesday night.
Close but no cigar
It was the second straight road game against an Atlantic Coast Conference opponent following an 82-55 loss at North Carolina on Dec. 5. The Seahawks lost to both the Tar Heels and Panthers (7-5) last season and hoped to avoid the same fate this go around.
UNCW played more as it did over the second half of the UNC loss when it outscored the Tar Heels by five. This time, there was no Stephanie Watt-esque performance from the opponent to bail out the Panthers early.
The Panthers outscored the Seahawks by nine in the second half. They lead the Seahawks in rebounds (37 to 26), blocks (5 to 2) and made 11 more free throws in the game.
The Seahawks struggled in the final minutes, making one of their last seven field goals as the Panthers battled back in the win.
Double trouble
GiGi Smith didn't transfer to UNCW just to play in games like these. She came to win them.
The Old Dominion transfer led the Seahawks with 15 points, but it was her aggressive nature that set the tone and allowed the Seahawks to build a five-point halftime lead. However, she only shot 2-for-9 in the second half.
Smith and guard Shrita Parker (14 points) have now both scored double-digit points in all nine games this year. Parker was fouled late in the game and sank two of the three free throws with over a minute left, but by then the Panthers had regained control of the game.
Lineup shuffle
As the Seahawks (5-4) welcomed back forward Carol-Anne Obusek (six points, five rebounds) to the team after fulfilling her transfer requirements, it lost the services of junior guards Moriah Crisp and Timber Tate who were suspended for violation of team rules.
Their absence paved the way for junior guard Ahyiona Vason to enter Barefoot's starting lineup. The Pensacola State transfer played a season-high 34 minutes with four assists before fouling out late in the fourth quarter.
It's unclear at this time how long Crisp and Tate will remain away from the team, but Vason proved herself capable of performing in a complementary role next to Smith and Parker in the meantime.
UNCW has now lost three of its last four and will look to right the ship against Longwood on Friday in Trask Coliseum.