Seahawks fall to Tar Heels in McGrath homecoming
McGrath: "We got down on ourselves and just never recovered."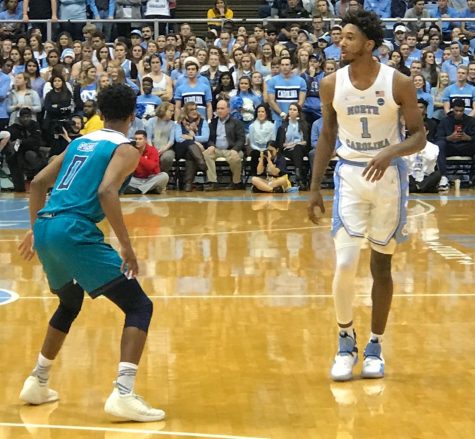 UNC Wilmington men's basketball played a half and one minute of good basketball before things unraveled in a 97-69 loss to no. 14 North Carolina on Wednesday night inside the Dean E. Smith Center.
"UNC came at us with their double teams, pressure, and length," said UNCW coach C.B. McGrath. "We let that bother us more than we should have."
Tar Heels run away
The Seahawks (4-6) ended the first half down by nine and even lead at twelve minutes into the game. Guard Ty Taylor led the Seahawks at the half with nine points while forward Jeantal Cylla and guard Jaylen Fornes were right behind him with seven points apiece.
If the Seahawks were to keep pace with the Tar Heels (6-2), they needed to protect the ball and capitalize on a UNC team that turned the ball over nine times in the first half. Unfortunately for the Seahawks, the Tar Heels came out of halftime firing on all cylinders.
"When they made a run, we just let down a little bit, let the crowd get into and the momentum shifted and never came back," Cylla said. "Whereas the first half, when they punched us in the mouth, we punched them right back."
The Tar Heels limited themselves to six giveaways and turned 15 Seahawk turnovers into 22 points after the break. A 30-5 run by UNC midway through the second half buried UNCW despite a respectable start.
"I think if we had had the same mindset in the second half, it would have been a different outcome," said Cylla. "Win or lose, we don't know, but I think it would have been a dogfight."
Cacok struggles
It was anything but the performance forward Devontae Cacok would have liked to put forth against the Tar Heels on ESPN2. While the senior struggled with foul trouble, there were more pressing issues that hurt the Seahawks.
25 turnovers, shooting 30% from three-point range, and the 50 to 16 points-in-the-paint differential had more to do with the Seahawks loss than Cacok shooting 2-for-10 and not making a basket from the floor until there was 8:35 left in the game.
"[Cacok] is a big piece of what we do, so if he struggles we just have to come together and be a little more focused," said Taylor.
Early fouls made Cacok more conservative and limited him to 21 minutes in the game. The end of the semester and final exams will keep Cacok a chance for redemption until Dec. 15 at no. 25 Furman before two games in his home state of Georgia over the winter break.
Homecoming
 McGrath knew the questions and stories would center around him returning to a place he coached at for so long in Chapel Hill. What surprised him the most was how normal it felt once the game started.
"It felt like a basketball game to be honest which I was surprised by," said McGrath. "Having all the questions and leading up to the game, but when it started I was feeling like I had my team prepared."
In practices that lead up to the tilt with the Tar Heels, McGrath ran point guard because he knew the system UNC ran that well. That's what happens when you spend fourteen years in one place and twenty-two under UNC coach Roy Williams.
"C.B. McGrath is one of my favorite people in the world," said Williams. "He's like a son to me, I love him to death."
Williams did make a special trip before the game to the Seahawk bench to exchange pleasantries with McGrath and his staff including Jackie Manuel. Both McGrath and Manuel received standing ovations prior to tip-off.