Seahawks unable to mount comeback over Camels
McGrath: "Every possession is important."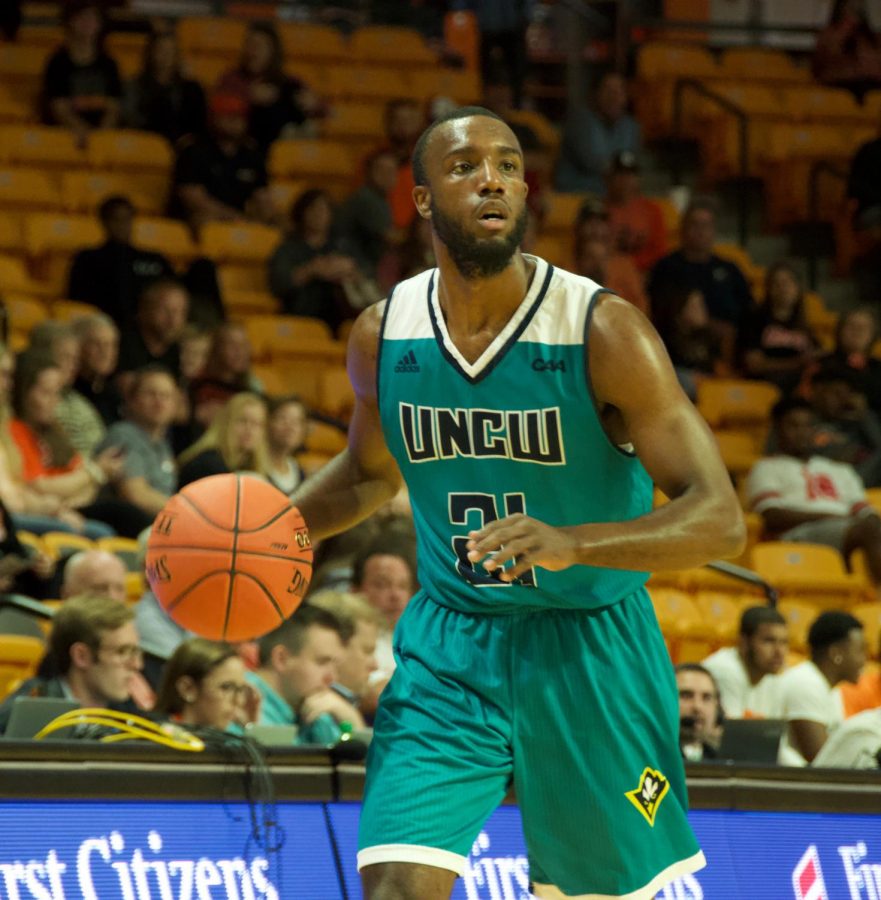 Brandon Sans, Sports Editor
November 7, 2018
After it escaped last year's meeting with Campbell with a four-point victory, UNC Wilmington knew it needed to be ready from the opening tip on Tuesday night at Gore Arena.
It took all of regulation and then overtime for the Seahawks (0-1) to snap a three-game winning streak against the Camels (1-0) with a 97-93 final.
Terrific Threes
The Seahawks had a simple remedy for their struggles against the Camel's press defense in the opening minutes of the game: Shoot over it.
The Seahawks shot 52% from three-point range, far surpassing last year's 35% season total. It allowed them to open the floor down low for senior Devontae Cacok to finish with 19 points.
Guards Ty Taylor II and Jay Estime' combined to shoot 10-for-14 from three-point range including a game-tying three-pointer with three seconds remaining by Taylor.
"It felt good," said Taylor about his game-tying shot. "It gave us another chance to potentially win. I was happy about it."
Toews Time
Guard Kai Toews' play in practice and the preseason earned him the starting point guard spot to begin the season.
Eighteen turnovers by the Seahawks on an away game against a rival reminds the Seahawks that Toews is still a freshman who can facilitate and weave through a defense, but also be prone to rookie mistakes every now and then.
"[The turnovers] aren't on him at all," Taylor said. "That's all of us. We just have to be more solid."
The opportunity for minutes for Toews and senior Jacque Brown will increase moving forward because sophomore guard Jeff Gary will transfer from the program per coach C.B. McGrath.
Campbell's Clemons
Campbell was once again led by senior guard Chris Clemons who extended the nation's longest active double-digit scoring streak to 83 games with his 44 points on 12-for-24 from the field. Clemons scored all 15 Camel points with the game on the line in overtime.
"He's going to get shots off. You can't stop guys from getting shots off," McGrath said after the loss. "You've just got to try to cut down their percentage. We wanted to do a better job on him."
Clemons averaged 22.8 points in four games against the Seahawks, but this is the only game where he's eclipsed the 20-point mark. Before his 44-point outburst, Clemons had scored 47 points in the three previous matchups.