Seahawks enter year two of Barefoot era
Barefoot: "There's a team determined to do something that's never been done here before."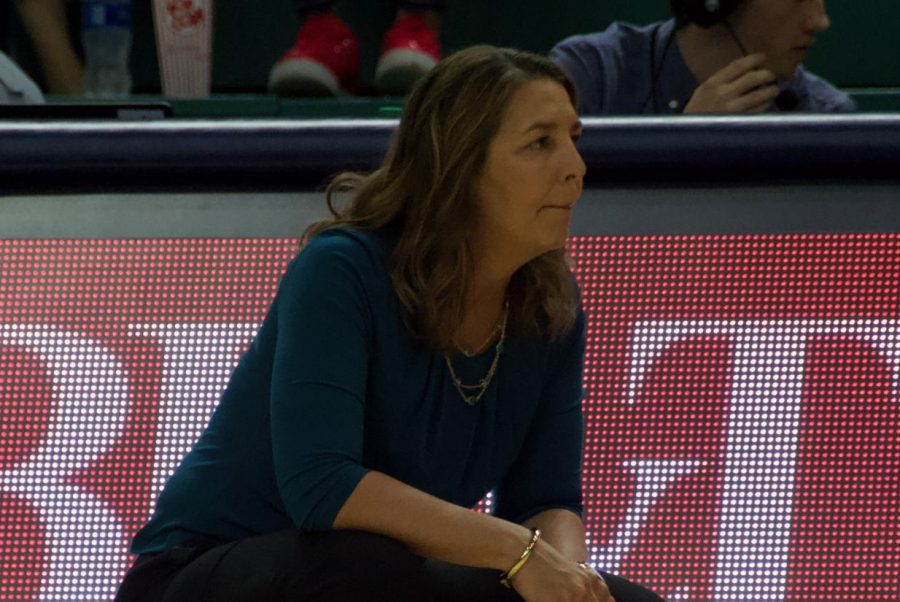 Lanre Badmus, Staff Writer
November 5, 2018
The UNC Wilmington women's basketball program made significant strides in 2017-18. On paper, it may not have seemed like much when comparing it to 2016-17 – their 12-19 overall record was only one better than the previous season, and their Colonial Athletic Association record of 4-14 went one game lower.
However, the improvement last season was noticeable under coach Karen Barefoot. There was a great uptick in enthusiasm, effort, energy, and determination – all of which are hallmark Barefoot teachings. There were greater fan support and interest among students on campus.
Now, in season two of the Barefoot era, there is a heightened sense of expectation surrounding the program. With a total of five new transfers eligible to play this season in addition to the core of the squad returning, the Seahawks feel confident they will continue to progress in 2018-19.
"I'm extremely excited about the season," said Barefoot during UNCW's media day. "I've been waiting for it since the day after we lost in the conference tournament…everybody across the board has improved big time…their fitness level, their mental state, basketball skills. And there's a hunger, and there's a team that's determined to do something that's never been done here before."
That "something" Barefoot is referring to is a straightforward goal: to hang banners at Trask Coliseum. And the former Old Dominion head coach believes that can happen sooner rather than later.
New faces in teal
This year's UNCW squad features a total of five transfers. Four of them – GiGi Smith, former Rutgers guards Ashli Jeune and Shrita Parker as well as junior college transfer guard Ahyiona Vason – will be eligible to play the entire season, while forward Carol-Anne Obusek will begin playing in the spring semester after fulfilling NCAA transfer requirements.
Smith, a redshirt junior guard, could not contain her excitement at getting to put on a basketball uniform for the first time in over a year after having sat out the entirety of last season.
"It's nerve-wracking. You sit out a whole year and you're just on the bench thinking 'Coach, put me in the game'," said Smith, who led all scorers with 13 points in a 79-55 win over Catawba in an Oct. 27 exhibition at Trask Coliseum. "But I'm ready for it."
Smith said she learned a lot from having to redshirt an entire year, chiefly that the game of basketball is a mental game balancing ups and downs as opposed to being talent-based.
Smith was full of praise for coach Barefoot, whom she followed to UNCW last year after playing her first two seasons under her at Old Dominion.
"She's amazing. Her spirit is beautiful, her positivity is beautiful," Smith said. "She's there for you, she cheers you on. You never feel like you're failing when you're with her – it's always a teaching moment, it's always [about] learning, and it's always feedback for you that puts you a step higher than you could ever imagine."
Obusek, a spring 2018 transfer from High Point, said the coaching staff was a large factor in her decision to make the switch from the Triad to the coast.
"Coach Barefoot, coach [Tina] Martin, the fact that this program is just on the rise," said Obusek, a junior. "It's onto the next level. Coach Barefoot is known for winning championships, and I definitely think that we're on the rise to winning a championship."
Obusek said she has been working on improving her post moves, becoming a better shooter from 15 feet, developing her pinch game and overall sharpening her skills.
The returning nucleus
The Seahawks return eight players from last season's squad, including starters Moriah Crisp and Timber Tate as well as sixth woman – and preseason all-CAA selection – Lacey Suggs. The trio, all of whom are junior guards, improved to be key players in Barefoot's first season at the helm.
Suggs, in particular, made the biggest leap. After appearing in just three games as a freshman, Suggs was named a team co-captain at the start of last season when Barefoot saw her work ethic and leadership potential. She wound up averaging 11.8 points per game as a sophomore, improved in all statistical categories and received the team's "Whatever it Takes" award. This success led to the former walk-on receiving a scholarship midway through last season as well as an inclusion as a preseason all-CAA honorable mention this year.
Suggs, who now sees herself on posters and buses all across the Port City, does not let the attention distract her from her goal of continuous improvement.
"I've just got to stay humble," Suggs said at media day. "Continue that leadership role that I played last year, keeping the chemistry together…I'm going to still work hard no matter if I have a scholarship or not, I'm still going to respect my coaches whether I have it or not."
The graduate of East Bladen High School said she still has a sort of chip on her shoulder to prove people wrong, and also believes the team's added depth will help set the team up for something very special this season.
Barefoot was not shy about her praise for Suggs' work ethic and determination, saying she's "earned her right to play minutes this year" amongst increased competition at the guard position from Smith, Jeune and Parker.
"One thing about Lacey is that she does all the little things. She doesn't have to worry all so much about scoring because a lot of people can score…she's versatile where she can play inside-out. We need Lacey because she fits our style of play," Barefoot said.
The Seahawks will also be looking for big contributions from senior forward Chinyere Bell this season. After sitting out the first half of last season due to NCAA transfer eligibility rules before getting injured during the second half, the former George Mason standout is eager to play the entirety of this campaign.
"I'm so excited to start the season," Bell said. "There's a lot more comfort because I was just hopping into the season before I got hurt again, so that was a lot."
Bell, who is normally more of a post player, has worked more on driving in the lane and shooting in the offseason in an effort to diversify her skill set.
Crisp, the starting point guard for last year's squad, was candid about what the team needed to do to improve as a whole.
"Individually, we need to keep working together," said Crisp. "Once you work hard individually, it'll all come together as a team."
Crisp mentioned how the increased presence of scoring talent on the team made her job as the facilitator of the offense much easier. She said she was able to put her teammates in better positions to score, and how they had all gotten better through that.
The schedule
The Seahawks begin their regular season on Tuesday night when they play host to Belmont Abbey at Trask for a 7 p.m. tipoff. The team will play three home games out of its first four overall in the month of November, the others being Presbyterian (Nov. 14) and Grand Canyon (Nov. 17). December will see them once again make trips to face ACC opponents North Carolina (Dec. 5) and Pittsburgh (Dec. 18), both of whom defeated UNCW a year ago. They will also travel to Greenville to face local rivals East Carolina on Dec. 30 before the start of conference play on Jan. 4 against fierce rivals College of Charleston.