UNCW topples William Peace in exhibition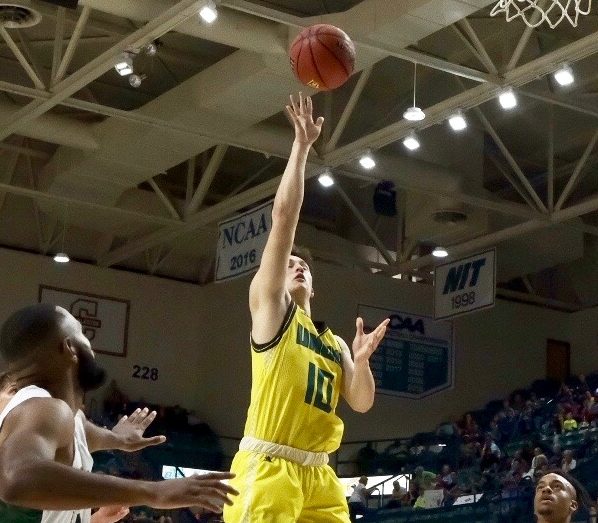 Brent Jansen , Contributing Writer
November 3, 2018
 In its final exhibition match before opening the regular season, UNCW downed William Peace 80-52.
The Seahawks started the game strong thanks to a great first half performance from senior forward Devontae Cacok. Cacok ended the game with a double-double (13 points, 13 rebounds) and led the team in rebounds. 
Freshman standout 
 Statistically, several players for UNCW had good games including Cacok and junior guards Ty Taylor and Jaylen Fornes, but freshman point guard Kai Toews played spectacularly. Toews led the game in assists with nine in total.
 What the stat sheet doesn't show is the level of difficulty and precision with which these passes were made. Toews consistently placed beautiful passes to the paint as well as to shooters in the corners. Toews' court vision is impressive and is always looking for who is open.
 Toews started tonight's exhibition instead of Jacque Brown, who started the Seahawks' exhibition match against Clemson last Saturday. It is unclear who will start in the season opener on Tuesday but do not be surprised if Toews makes the start. Toews played 21 minutes tonight compared to Brown's 12.
Disappointed despite the win 
After the game, head coach C.B. McGrath was clearly disappointed with some of the performance from the team.
After taking a 19-4 lead through five minutes of play, the Seahawks' showing started to deteriorate. McGrath said that "the last 13 minutes [of the first half] was probably the most selfish 13 minutes of basketball I've seen in quite some time. It made my stomach sick." 
William Peace cut the lead to just seven before halftime, although they did not hold a lead the entire game.
Despite his disappointment, McGrath did have high praise for Taylor. 
"I told the team after the game, 'if you guys want to play minutes, which everybody says they do, and if you sat there and watched Ty Taylor play in the second half, you will play as many minutes as you want to, if you play like that." 
McGrath meant what he said; Taylor led the team in minutes played with 23. 
Struggles moving forward 
After holding their own against no. 22-ranked Clemson, UNCW should not have any problems blowing out a Division III school like William Peace. This was not the case tonight.
Even though they never lost the lead, UNCW was expected to dominate. Even McGrath said that "this game was not as easy as [he] thought it was gonna be." 
UNCW shot only 20 percent from the three-point line and just 54.2 percent from the free throw line. Cacok and graduate transfer forward Shawn O'Connell, UNCW's two big men, combined for just 3-for-11 at the free throw line. 
Moving forward, the Seahawks will have to correct these small errors if they want to compete with the likes of the College of Charleston, Stanford and even North Carolina, who the Seahawks play in December.  
UNCW travels to Campbell to open the regular season on Tuesday, Nov. 6 with a 7:30 p.m. tip-off. The Seahawks open up at home when they host Stanford on Friday, Nov. 9 with a 7 p.m. tip-off.