UNCW women's hoops wins exhibition over Catawba
Barefoot: "It feels good to be back at The Trask."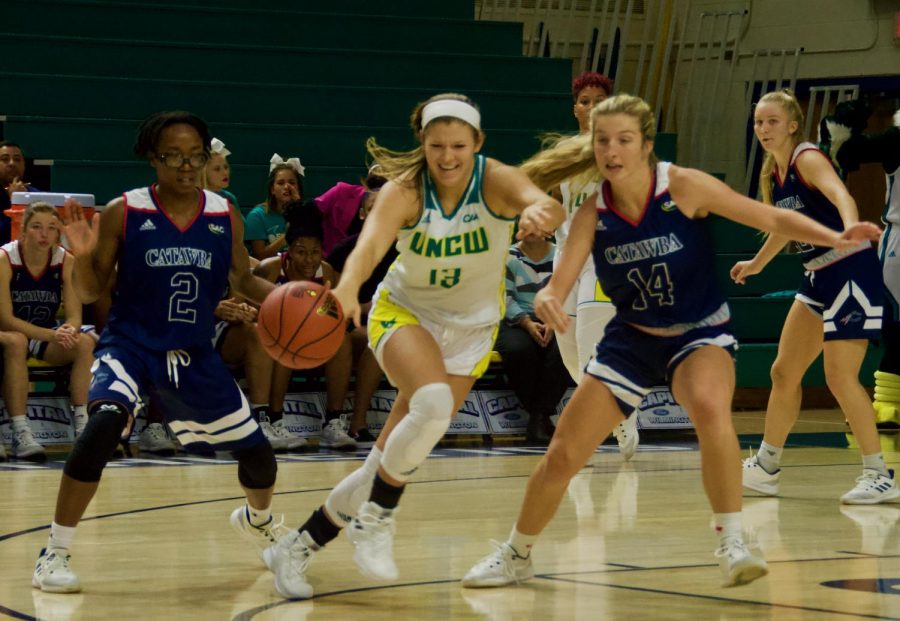 Brandon Sans, Sports Editor
October 27, 2018
UNC Wilmington women's basketball opened its 2018-19 season with a 79-55 exhibition win over Catawba on Saturday in Trask Coliseum.
In the only public scrimmage this year, the Seahawks handled the Indians and never trailed in the game. Below are highlights of the day:
The Smith and Suggs Show
It took redshirt junior guard GiGi Smith seven tries to miss from either the field or free-throw line. In her first home game, Smith (13 points on 4-for-7 shooting, 2-for-3 from three-point range) showed the crowd what she preached in practices, the sideline and social media for over a year.
"I really was nervous, I thought I was going to come in and turn the ball over," Smith said. "My teammates got me pumped throughout the warmup."
Meanwhile, junior guard Lacey Suggs' proved last year's season was no fluke. The preseason All-Colonial Athletic Association honorable mention player gritted her way to 11 points, four rebounds and one steal.
New and old faces at Trask
Every Seahawk player saw the court in their win against the Indians. For six players, it was the first time they saw game action at UNCW.
"We've got a great mix," said UNCW coach Karen Barefoot. "It's fun to be able to play everybody and wear our opponent down."
The 5-foot-10 Smith was the tallest of the starting five. The depth of this year's squad gives coach Karen Barefoot the option to dictate her lineups based on opposing matchups. Barefoot played 35 different lineups against the Indians.
The best ability is availability
Three Seahawk starters (Parker, Smith, Suggs) played themselves into foul trouble midway through the third quarter. Parker fouled out in the fourth quarter didn't prove costly as the Seahawks held a double-digit lead.
"We've got to do a good job of moving our feet and not reaching in," said Barefoot. "We gambled a little bit more, but that's what happens when you're a pressing team."
The Seahawks were able to get away with fouls against a Division-II opponent in Catawba, but they cannot afford to handicap themselves to that extent. As UNCW prepares for its regular-season opener against Belmont Abbey on Nov. 6, it reminded itself the best ability is availability.