Very good boys: UMBC's historic upset felt across college basketball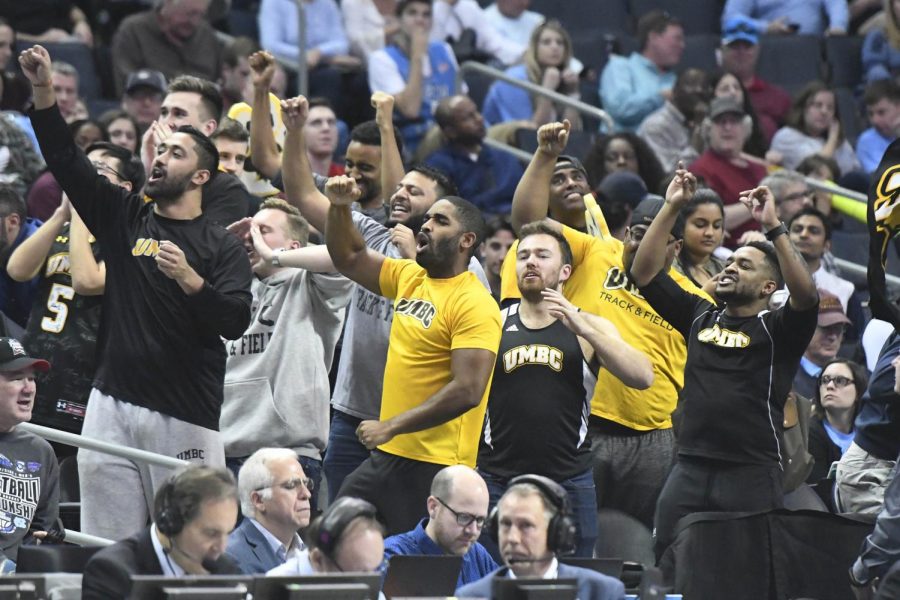 People often relate the month of March with the start of spring, but for sports fans everywhere, March is the month of the NCAA Tournament.
When people think of the NCAA Tournament, some notable teams that come to mind are Duke, Kentucky, Villanova, and the last year's national champion North Carolina. But what makes the month of March so "mad?"
The "madness" in March Madness refers to the idea that anything can — and will — happen.
Without a doubt, the most captivating thing to so many sports fans every year, besides rooting for their favorite team, is the inevitable upset.
Each year, powerhouse teams that have dominated over the course of the regular season run the risk of being upset by teams whose only claim to fame comes from making the field of 68.
But what, exactly, is the biggest upset in NCAA Tournament history? Some games that make their way into that conversation are No. 15 seed Lehigh defeating No. 2 seed Duke in 2012, as well as No. 15 seed Santa Clara defeating No. 2 seed Arizona in 1993.
For years, sports fans have debated this idea, but as of last Friday night, there is a new game on that list. And most college basketball fans agree that it takes the cake.
On Friday night in Charlotte, No. 16 seed University of Maryland, Baltimore County (25-11, 12-4 AEC) took on the No. 1 overall seed Virginia (31-3, 17-1 ACC) in a contest which, seeing as how a 16 seed has never beaten a 1 seed, should have been a win and a trip to the Round of 32 for the Cavaliers.
Until this year, 16 seeds were 0-135 against 1 seeds in the NCAA Tournament, but the Retrievers looked to make history ever since receiving only their second NCAA Tournament bid in program history, just over a week ago.
The game went into halftime tied at 21. Fans watched as the second half began, thinking that the Cavaliers would go on some sort of run and put some distance between themselves and UMBC. Unfortunately for Virginia and its fans, it was the Retrievers who went running.
UMBC outscored UVA 53-33 in the second half, mounting a 20-point deficit which the Cavaliers would fail to overcome.
The Retrievers would defeat UVA in true Cinderella team fashion 74-54, not only earning them a ride to the Round of 32 but marking their spot in history as the first ever no. 16 seed to topple a no. 1 seed.
"It was surreal because sure, it's possible, but you never expect it to happen, especially when you see the margin of victory," said Brandon Sans, a UNCW student currently enrolled in the Disney College Program.  "It was the perfect storm of things going against Virginia."
UMBC's win over Virginia has the entire country talking and has presented a new form of school pride to UMBC's students.
"It's actually pretty crazy," said UMBC student-athlete Musangu Bukasa. "I don't think we actually realize what just happened. People are honking at you when you have UMBC stickers and stopping you while you're shopping, for sports-related conversations, which is a first."
The recognition of mid-major schools is something that only comes once in a blue moon. So, when a school that has flown under the radar for so long re-wrote the history books, sports news outlets and social media blew up.
UMBC Athletics' Twitter account, which had a following of only about 5,000 people at the start of the tournament, now has a whopping 107,000 followers, just to put into perspective the magnitude of what happened Friday night.
Since the tournament's expansion to 64 teams in 1985, there have been only a handful of upsets between No. 2 and No. 15 seeds, which is the closest things to an upset amongst No. 1 seeds and No. 16 seeds that we've seen until this week.
And the trend that seems to follow these upsets is the influx of more upsets in that category.
In 1991, six years after the tournament was expanded to 64 teams, the first instance of a 15 seed defeating a 2 seed occurred when Richmond defeated Syracuse. Since then, an upset on that level has occurred on an average of once every four years, with two upsets occurring in the same year in 2012 (Norfolk State defeated Missouri, Lehigh defeated Duke).
And now that the seemingly unbreakable curse of being handed a spot as a No. 16 seed has been shattered, it is not too far-fetched to think that we could see a few 16 seeds sneaking their way into the Round of 32 in the next few years.
With only three players set to leave following this season (Seniors K.J. Maura, Jourdan Grant, and graduate student Jairus Lyles), much of the college basketball world believes that this is far from the last time we will see UMBC in the postseason. And there's no telling how much recruiting is going to be helped following the Retrievers' historic win.
In the last week alone, UMBC has been responsible for numerous busted brackets, crushing the hopes of Virginia fans, and winning the hearts of college basketball fans everywhere. And with a win over the No. 1 team in the nation, it is clear that these Retrievers are good boys – very good boys.