Talley's 37 points advance UNCW to CAA semifinals
Noah Thomas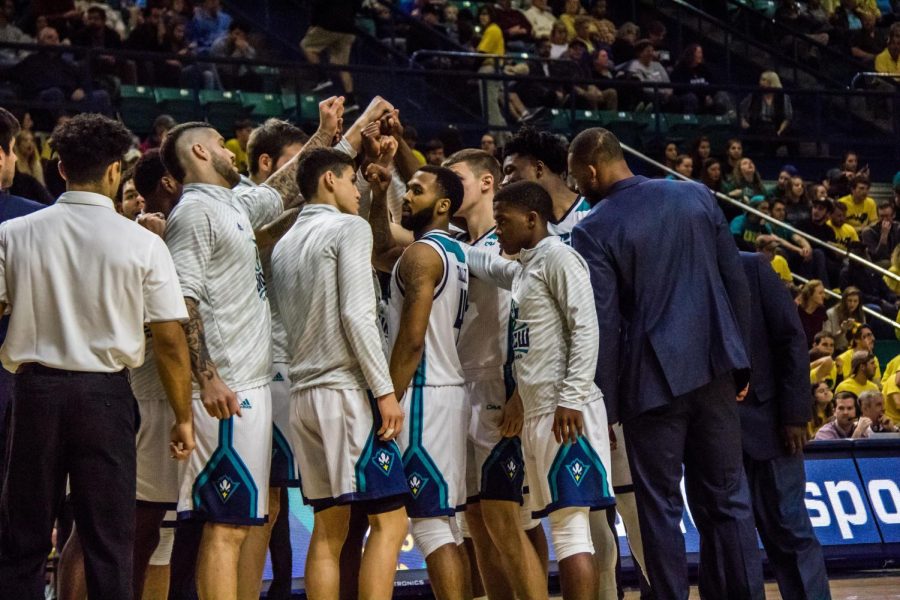 Noah Thomas, Sports Editor
March 4, 2018
CHARLESTON, S.C. — As it had for much of this season, UNC Wilmington's success in the quarterfinals of the CAA Tournament hinged on Devontae Cacok's ability to stay out of foul trouble.
When the junior picked up his first two fouls in just 90 seconds on Sunday, it appeared the No. 6 Seahawks were in for a difficult night against No. 3 Hofstra.
But UNCW subverted expectations, opting to ride a career performance by Jordon Talley, who scored 37 points and boosted his team to a 93-88 win after being down by eight at halftime.
"I felt pretty confident," UNCW coach C.B. McGrath said. "We'd been down at the half before, but I told our guys that if we just stick together, keep our mouths shut and only talk to our guys that I felt pretty good about our chances to come back in the game."
Senior status
Jordon Talley is a bad man.
The senior, who has been with the Seahawks (11-20) through all their success in the previous three seasons, refused to allow his career to end against Hofstra. Talley scored a CAA Tournament record 37 points on 12-of-23 shooting and dished out seven assists.
Not much else one can do when the centerpiece of your team is on the bench for half the game. Matching up with CAA Player of the Year Justin Wright-Foreman, who placed in the nation's top-five leading scorers, Talley couldn't help but kick it into a higher gear.
"We had to go out there and win the game," he said. "I felt like (I had to do) whatever I could to help our team win the game, and today it was putting points on the board – and we won, so on to the next."
Talley, who was pegged as a Third Team All-CAA selection by media this week, said on Thursday that his team had to play hard, play smart and play together to make a run and defend its consecutive CAA crowns.
The Seahawks did just that down the stretch, matching Hofstra (19-12) point-for-point in the last five minutes before pulling away in the final seconds.
"We played hard, we played smart and we played together," Talley said after the win. "We believed in each other and we came out with the win."
The cold wind blows 
The Seahawks won't be able to celebrate for long. The CAA semifinals start Monday afternoon, and UNCW finds itself pitted against No. 2 Northeastern – a team the Seahawks fought to two overtime losses in the regular season.
The Huskies (22-9) tout CAA Coach-of-the-Year Bill Coen, Player of the Year runner-up and All-CAA first teamer Vasa Pusica, and Defensive Player-of-the-Year Shawn Occeus.
It's a tall task, but past experience has shown UNCW can play Northeastern close from buzzer to buzzer.
Tipoff is set for 8:30 p.m.