Seahawks run Hofstra out of Trask in 90-70 homecoming win
Noah Thomas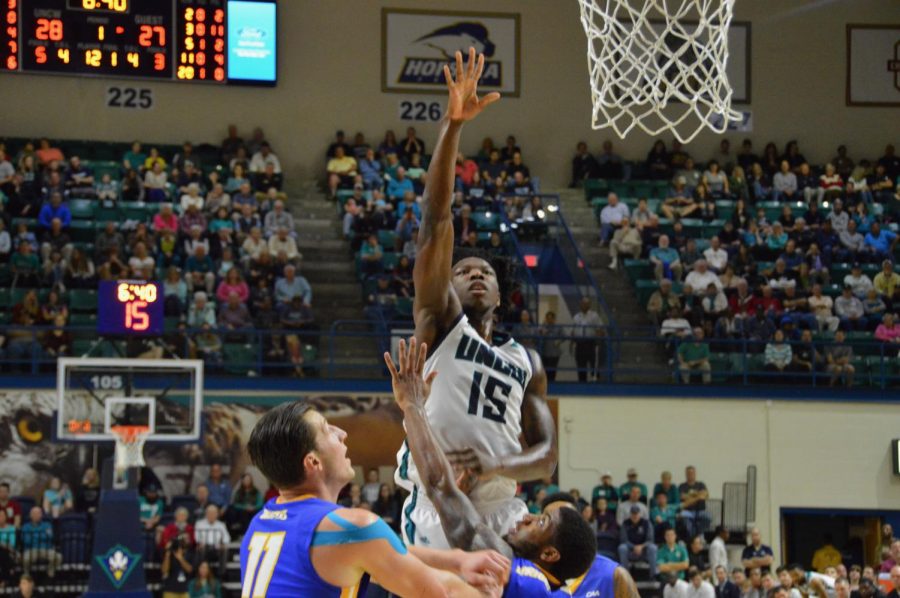 Noah Thomas, Sports Editor
February 10, 2018
On paper, the cards were stacked against UNC Wilmington in Saturday's homecoming game against CAA rival Hofstra.
In the midst of a three-game losing streak that included a loss in their first meeting with the Pride, the Seahawks played some of their best basketball of the 2018 season on the way to a 90-70 win.
UNCW (8-17, 5-8 CAA) played toe-to-toe with Hofstra for the first 17 minutes before closing out the first half on a 10-2 run. The Seahawks kept up the pace in the second half, outscoring the Pride 15 the rest of the way.
Career game, career opponent
His final stat line of 25 points and 16 rebounds wasn't the best of Devontae Cacok's season, but the star junior had a career game against a team he has struggled against in the past.
He had just 17 points against the Pride in five appearances before Saturday, but his struggles were not existent.
"I knew I had to be on the court in order to play, so staying out of foul trouble in the first half — I felt it helped me play my game," Cacok said. "It helped me stay in my groove for the rest of the game, so I would say that was the main thing I had to do."
Cacok was instrumental in the multiple runs that helped the Seahawks build their lead over the final 20 minutes. He scored six of UNCW's final 10 points to end the first half.
Then, when both teams went four minutes without recording a field goal late in the game, Cacok sank a layup to send a sold-out Trask Coliseum into a frenzy.
It was the final regular season meeting between the nation's leading rebounder and Hofstra's Rokas Gustys — a rivalry that has bloomed in the low post over the last two-plus seasons.
"It's definitely great competition. It's a great way for me to work on my game and (for him) to work on his game," he said. "It's a good matchup, it's a good test … It's definitely something I always look forward to."
Up Next
The Seahawks travel to James Madison on Tuesday in a game rescheduled from this past week after the Dukes were hit with a case of the mumps virus.
After that, UNCW returns home for two home games — including senior night next Saturday vs. College of Charleston.
For a gallery of Saturday's homecoming victory, click here. 
Sports Editor Noah Thomas can be found on Twitter @NoahILM. Any tips or suggestions should be forwarded via email to [email protected] For video updates from The Seahawk, subscribe to our YouTube channel.