Women's March on Wilmington 2018 highlights array of issues, concerns
March on Princess Street brought about discussions of equality, intersectional feminism, preservation of democracy and need for political participation.
On Saturday, Jan. 20, 2018, the Women's March on Wilmington took place outside of Thalian Hall downtown. Local police on foot, horseback or in cars manned crowd control and blocked off part of 102 N. 3rd St.
This particular event was organized in part by Women Organizing for Wilmington [WOW], whose Facebook event page had over 1.1k interested and listed that 735 attended. The event included efforts and sponsorships from organizations such as the local Black Lives Matter movement, the League of Women Voters of the Lower Cape Fear, Carolina Jews for Justice and more.
The crowd was filled with the infamous "pussyhats," signs and enthusiastic cheering as hundreds of Wilmingtonians, politicians, students, teachers and concerned citizens of different races, ethnicities, genders and sexual orientation gathered enthusiastically. Signs and advocacy materials ranged from political propaganda, the need to impeach President Trump and local and national issues.
"Spill baby spill! Stop offshore drilling" read one sign, taking a stance in response to the Trump administration's latest plans to open up many parts of the Atlantic Ocean to offshore drilling.
One man held a sign that read "I teach Dreamers," showing his support to defend the Deferred Action of Childhood Arrivals program that has been threatened under the current president.
The event also included a range of entertainment in front of Thalian Hall. Adults, children and even someone in a Big Bird costume gathered to listen to advocates, musicians, poets and politicians speak about today's political climate.
"Sisters, sisters, sisters. My sisters of every shade, every hue…I thank you for this opportunity," said one speaker. "But please remember that there are some hues that are not as present as they should be. They had to work, they had to take care of their child; Remember that they are also here. Do not forget them."
In addition to the many issues being advocated for during this march, inclusivity was another repetitive theme of the march. The Seahawk interviewed several participants, many of whom spoke of the need to represent and defend those of the LGBTQIA communities and those who were not afforded the right to participate in the march.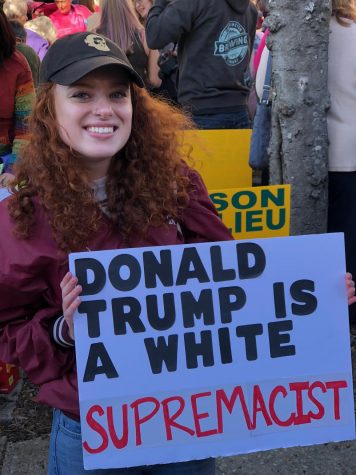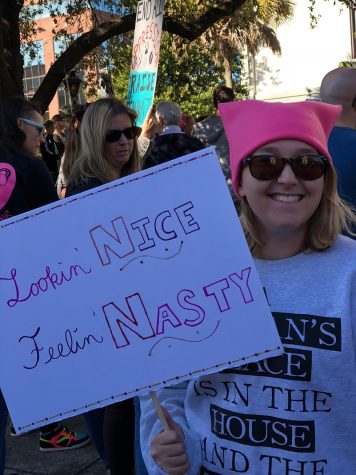 Even UNC Wilmington students and faculty were present and speaking up. Dr. Meghan Sweeney of the UNCW English Department attended alongside her son.
"He made up the sign himself," Sweeney said, referencing a poster her son was holding that read, "Girls are important to our community."
"We were here last year and I think it's important to do some follow through," Sweeney said. "We also want to be good parents and show [our son] what it means to stand up for people's rights, even people who are not like us and especially people who are not like us."
Throughout the various concerns brought to attention, one solution was widely voiced across the event: the need for political participation and voter turnout across New Hanover County and North Carolina.
"We have a big election coming up in 2018. Some great candidates are out here, and this is your future," said one WOW volunteer.
"I'm so happy to be a part of it," said James Middleton, who is running for New Hanover County Commission as he talked about his support for women and equality in Wilmington this year and in the nation's capital back in 2017.
"I was here last year, and I'll be here every year," said Judy Justice, who is running for school board and feels that today's political climate "looks like a destruction of our democracy." She continued, "If we [as women] don't come out, we don't stand up, we don't have a voice, we don't run for office…we won't be able to make a difference"
This year's Women's March across the country came at a pivotal time in politics with the upcoming 2018 elections, the recent government freeze, the one-year anniversary of the March on Washington, involving almost a half a million people and the record-breaking number of women across the country who are running for office.