Fornes scores 24, but Huskies down Seahawks 81-77 in OT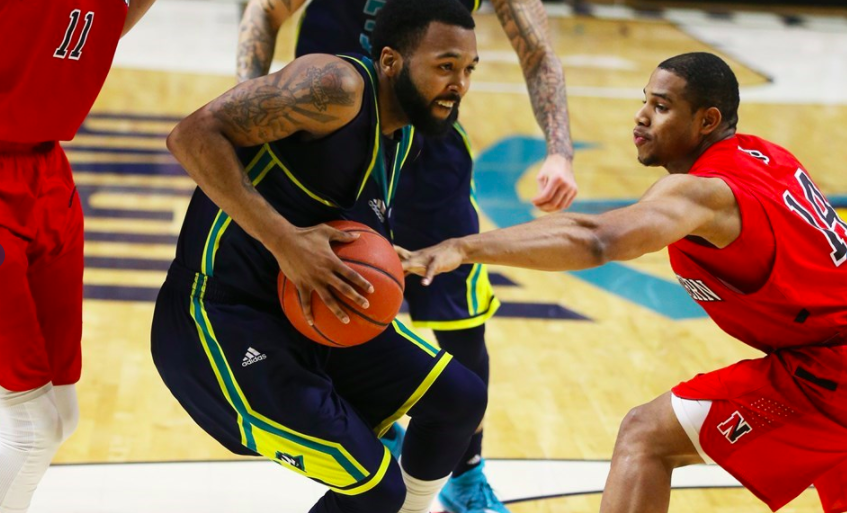 Noah Thomas, Sports Editor
January 13, 2018
When Jordon Talley went to the bench with his fifth foul at the 2:12 mark of the second half, UNC Wilmington was down four to CAA opponent Northeastern at home.
The Seahawks suddenly found themselves without senior leadership on the court. And despite a trifecta of free throws by Ty Taylor with less than a half-second remaining to send the game into overtime, UNCW couldn't capitalize in an 81-77 loss.
Momentum swings
Minutes later, UNCW (5-13, 2-4 CAA) found itself with the game's momentum firmly in hand.
The Seahawks were up by four with 3:07 remaining post-regulation, but the defensive problems that have plagued this UNCW team all season began to show themselves once more.
The Huskies (11-7, 4-2), on the backs of Tomas Murphy (17 points) and Shawn Occeus (15 points), took advantage of Marcus Bryan fouling out and went on an 11-3 run to close out the game.
With two seniors fouled out, there was little the Seahawks could do to stop the bleeding.
"It was a physical game and you just never know what the call might be," said first-year head coach C.B. McGrath. "Sometimes it goes your way and sometimes it doesn't."
Some bright spots for UNCW included sophomore Jaylen Fornes, who scored a career-high 24 points on 10-of-13 shooting. Talley added 17 points to go with four rebounds and four assists.
Stepping up
McGrath knew Taylor had failed put any points on the board at that point. That didn't matter.
"I knew," McGrath said. "That's incredible. Hadn't seen the ball in the basket, didn't have his best game. He gets fouled and then makes all three free throws – that's big. You don't see that very often."
Coming out of a timeout with eight seconds to go, Taylor went up for a three-pointer from the wing and was fouled by Northeastern's Devon Begley as time expired.
Taylor stepped up to the line, at that point 0-of-6 shooting from the floor, and drained three consecutive free throws that brought on a sea of cheers from Trask Coliseum that became louder with each made shot.
In that moment, everything that came before didn't matter for the redshirt sophomore.
"That just explains what type of person Ty is," said Talley. "He's ready for the moment. When the moment came, he hit the free throws and sent us to overtime."
Up next
UNCW travels down south to take on CAA rival Charleston. The Cougars dropped a 63-58 decision at Elon on Saturday.
Sports Editor Noah Thomas can be found on Twitter @NoahILM. Any tips or suggestions should be forwarded via email to [email protected] For video updates from The Seahawk, subscribe to our YouTube channel.